By R.L. Bynum
In the final installment of the NBA's 75th Anniversary Team, two more Tar Heels were added — Billy Cunningham and Bob McAdoo — to give UNC four players on the team.
The only other school with four players is UCLA. Houston and LSU have three.
Cunningham, known as the "Kangaroo Kid" at Carolina, was named to the 50th Anniversary Team 25 years ago.
McAdoo and Dominique Wilkins were the only players on the 75th team who didn't make the 50th team and started their careers before the 1990s.
They join Michael Jordan and James Worthy, who were named Wednesday to the 75th Anniversary Team. All four Tar Heels on the team are in the Basketball Hall of Fame.
A surprising omission was Vince Carter.
All 50 players on that 1996 team are on the 75th Anniversary Team, which actually has 76 players because of a tie in the voting from a panel of media members, current and former players and coaches and team executives.
Cunningham spent 17 seasons in the NBA with the Philadelphia 76ers, nine as a player and eight as a coach. He was a four-time NBA All-Star and a four-time All-Star Game coach.
His NBA title as a player in 1967 was the first by a Tar Heel and his NBA title as a coach in 1983 was the first by a UNC alum.
He left the NBA to play for the ABA's Carolina Cougars in 1972–73 (winning MVP honors) and 1973–74 before returning to the Sixers. His career rebounding average in the NBA of 10.1 is the highest of any Tar Heel. McAdoo is third with 9.4.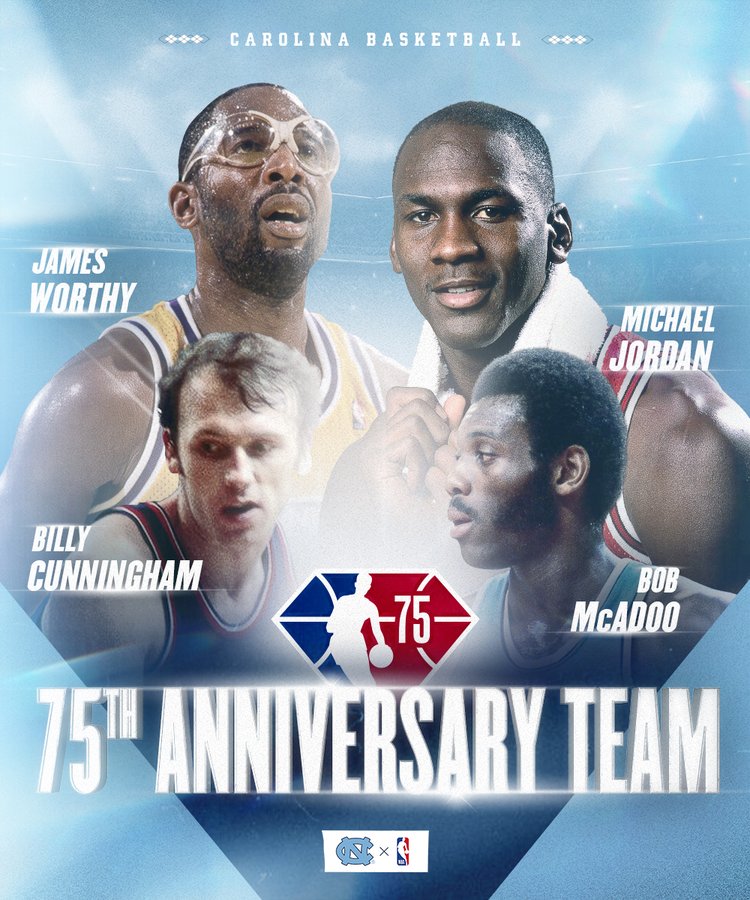 Cunningham finished his three-year Carolina career averaging 24.8 points and 15.4 rebounds per game. He was a two-time All-American, three-time All-ACC pick, was the ACC Player of the Year in 1965 and is fourth all-time in UNC history in rebounds with 1,062.
He recorded a Carolina-record 60 career double-doubles, including 40 games in a row in an NCAA record that has since been broken. He led the ACC in rebounding all three seasons.
Cunningham, Jordan and Worthy each made the ACC's 50th Anniversary Team and each have their NBA numbers retired. The UNC jerseys of Jordan and Worthy are retired and Cunningham and McAdoo have honored jerseys.
McAdoo, who went by Robert when he was at UNC, played 14 seasons in the NBA after helping Carolina make the Final Four in his only season in Chapel Hill in 1971–72.
That team finished the season with a 105–91 win in the consolation game over Louisville after falling to Florida State in the semifinals 79–75. McAdoo averaged 19.5 points and 10.1 rebounds for that 26–5 team that won the ACC regular-season title and beat Maryland 73–64 to win the ACC title.
He was Rookie of the Year in 1973 and NBA MVP in 1975 with Buffalo, was a five-time NBA All-Star and won NBA titles in 1982 and 1985 with the Los Angeles Lakers.
McAdoo's son Ryan is a redshirt senior walk-on on this season's Carolina team.
Others announced Thursday for the 75th Anniversary Team were Ray Allen, Carmelo Anthony, Elgin Baylor, Dave Bing, Kobe Bryant, Cunningham, Stephen Curry, Anthony Davis, Dave DeBusschere, Lebron James, Jason Kidd, Kawhi Leonard, Damian Lillard, Pete Maravich, McAdoo, Reggie Miller, Earl Monroe, Shaquille O'Neal, Gary Payton, Paul Pierce, Dennis Rodman, Dolph Schayes, Dwyane Wade, Russell Westbrook, Lenny Wilkens and Wilkins.
The 25 announced Tuesday were Kareem Abdul-Jabbar, Giannis Antetokounmpo, Nate Archibald, Charles Barkley, Bob Cousy, Dave Cowens, Kevin Durant, Julius Erving, George Gervin, Hal Greer, James Harden, Elvin Hayes, Jerry Lucas, Moses Malone, Kevin McHale, George Mikan, Steve Nash, Dirk Nowitzki, Hakeem Olajuwon, Bob Pettit, Willis Reed, Oscar Robertson, David Robinson, Bill Russell and John Stockton.

The 25 announced Wednesday were Paul Arizin, Rick Barry, Larry Bird, Wilt Chamberlain, Clyde Drexler, Tim Duncan, Patrick Ewing, Walt Frazier, Kevin Garnett, John Havlicek, Allen Iverson, Jordan, Magic Johnson, Sam Jones, Karl Malone, Robert Parish, Scotty Pippin, Chris Paul, Bill Sharman, Isiah Thomas, Nate Thurmond, Wes Unseld, Bill Walton, Worthy and Jerry West.