By R.L. Bynum
The top football recruits just keep coming to North Carolina, and Coach Mack Brown touts the latest class announced Wednesday on national signing day as possibly the best in program history.
With the signings of five-star recruits in offensive lineman Zach Rice and defensive lineman Travis Shaw, Carolina has recently attracted five of the program's 10 highest-rated recruits in program history, joining five-star recruits Desmond Evans, Tony Grimes and Keeshawn Silver, who are already on the roster.
The class is currently ranked No. 8 in the country and the best in the ACC with two fives stars, nine four stars and six three stars, according to the 247 Sports Composite. The 17-member class is the second-smallest of the top-10-ranked classes, with eight enrolling early next month. There are eight offensive players and nine defensive players.
Brown credited two quarterbacks who flipped their commitments — along with the five-stars already on the roster — with paving the way for the talented class: Sam Howell, who originally committed to Florida State, and Drake Maye, who originally committed to Alabama.

"He made it OK for all the other kids to come," Brown said of Howell. "When the best players in your state choose North Carolina, it's time for you to say, 'man, I need to look at that. What's going on there? I want to go be part of this.' And I really think a lot of that's what's happened to us.
"Then Drake Maye commits to Alabama and he flips and comes here, so everybody says 'why is that, man? Let's go look.' " Brown said. "And I think that's probably as much to do with our recruiting right now as anything else."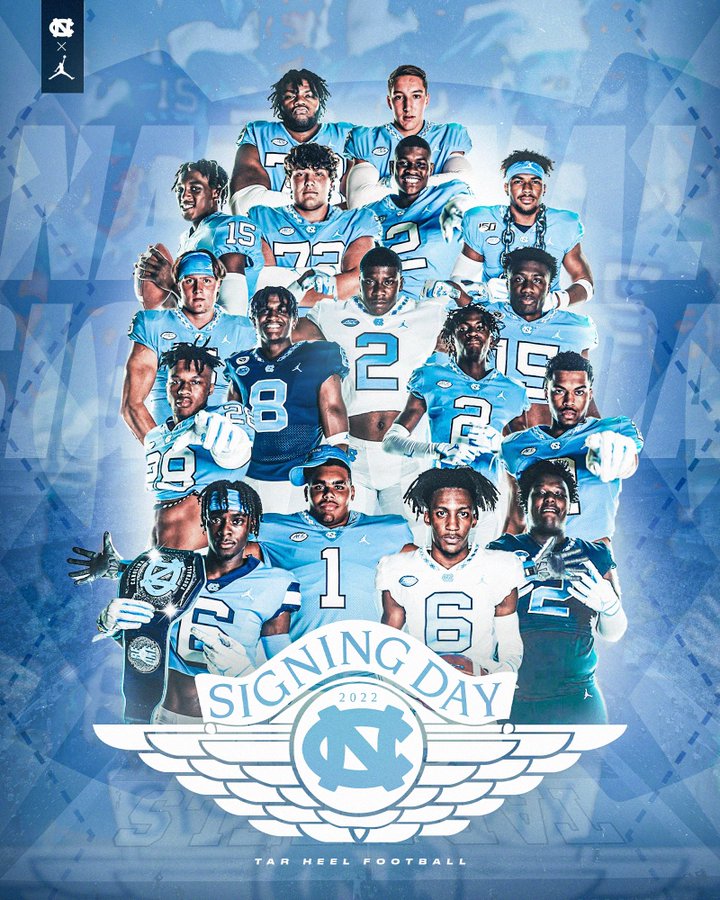 Brown added that the university has improved facilities and credits that as another boost to recruiting. A new training room is coming, as well as a redone players lounge and a renovated outdoor area. Phase two will include redoing the weight room.
"Not only is it one of the best athletic classes in the country, it's one of the best academic classes in the country," Brown said. "And I don't think I've ever seen this before, but every player that we signed is a team captain. So, we're needing leadership. We want that academic confidence. And all of those things are in here and obviously, they're great athletes or we wouldn't have signed them."
UNC signees
| | | | | | |
| --- | --- | --- | --- | --- | --- |
| Star ranking — name | Pos. | Ht. | Wt. | Hometown | High school |
| 4 — Marcus Allen | DB | 6–2 | 175 | Marietta, Ga. | Walton |
| 4 — Beau Atkinson* | OLB | 6–6 | 240 | Raleigh | Leesville Road |
| 3 — Randy 'Deuce' Caldwell II | LB | 6–1 | 215 | Mauldin, S.C. | Mauldin |
| 4 — Tychaun 'Doc' Chapman | WR | 5–10 | 175 | Virginia Beach, Va. | Princess Anne |
| 4 — Sebastian Cheeks* | LB | 6–3 | 220 | Skokie, Ill. | Evanston Township |
| 4 — Trevyon Green* | OL | 6–7 | 345 | Prince George, Va. | Life Christian Academy |
| 3 — Andre Greene Jr. | WR | 6–3 | 185 | Richmond, Va. | St. Christopher's School |
| 4 — Omarion Hampton | RB | 6–1 | 220 | Clayton | Cleveland |
| 4 — Malaki Hamrick* | OLB | 6–4 | 205 | Shelby | Shelby |
| 3 — Will Hardy | DB | 6–2 | 190 | Lawrenceville, Ga. | Greater Atlanta Christian |
| 3 — Conner Harrell* | QB | 6–1 | 190 | Alabaster, Ala. | Thompson |
| 4 — Tayon Holloway | DB | 6–1 | 170 | Virginia Beach, Va. | Green Run |
| 3 — Bryson Jennings | OLB | 6–6 | 240 | Richmond, Va. | Clover Hill |
| 3 — Justin Kanyuk | OL | 6–6 | 315 | Lehigh Valley, Pa. | Bethlehem Catholic |
| 4 — George Pettaway* | RB | 5–11 | 190 | Suffolk, Va. | Nansemond-Suffolk Academy |
| 5 — Zach Rice* | OL | 6–6 | 300 | Lynchburg, Va. | Liberty Christian Academy |
| 5 — Travis Shaw* | DL | 6–5 | 330 | Greensboro | Grimsley |
* — Early enrollee
Breakdown by position:
OLB (3) — Atkinson, Hamrick, Jennings
DB (3) — Allen, Hardy, Holloway
OL (3) — Green, Kanyuk, Rice
LB (2) — Caldwell, Cheeks
RB (2) — Hampton, Pettaway
WR (2) — Chapman, Greene
DL (1) — Shaw
QB (1) — Harrell
Breakdown by state:
Virginia (7) — Chapman, Green, Greene Jr., Holloway, Jennings, Pettaway,
Rice
North Carolina (4) — Atkinson, Hampton, Hamrick, Shaw
Georgia (2) — Allen, Hardy
Alabama (1) — Harrell
Illinois (1) — Cheeks
Pennsylvania (1) — Kanyuk
South Carolina (1) — Caldwell