By R.L. Bynum
After playing rival N.C. State in the middle of the season for the first time since 2013, it will be back to facing the Wolfpack in the regular-season finale again in the 2021 season. This season, the rivals will play on the day after Thanksgiving.
Carolina's football schedule, in likely the final season for Heisman Trophy candidate quarterback Sam Howell, begins at Virginia Tech on either Sept. 2 or Sept. 3 and will end at Carter-Finley Stadium on Friday, Nov. 26.
So, the Tar Heels and the Hokies open their seasons on either a Thursday or Friday. It's the first time the programs have met in an opener since a 14-all tie in Chapel Hill in 1946.
The ACC will return to division play with the Atlantic champion facing the Coastal champion in the ACC championship game in Charlotte on Dec. 4.
Carolina gets a chance to build momentum early in the season since its first six opponents all finished 2020 at .500 or worse.
Everybody hopes, of course, that Carolina will be able to allow Kenan Stadium to be packed by September when the Tar Heels welcome Georgia State on Sept. 11 for their home opener.
Carolina, which comes off an 8–4 season and an Orange Bowl appearance, will play two opponents in 2021 in non-league games that they faced in 2020 in ACC games — at Notre Dame on Oct. 30 and vs. Wake Forest at home Nov. 6.
It will be the second non-conference game against the Demon Deacons after UNC lost Sept. 13, 2019, in Winston-Salem 24–18. The programs will play three consecutive seasons for the first time since 2002–04.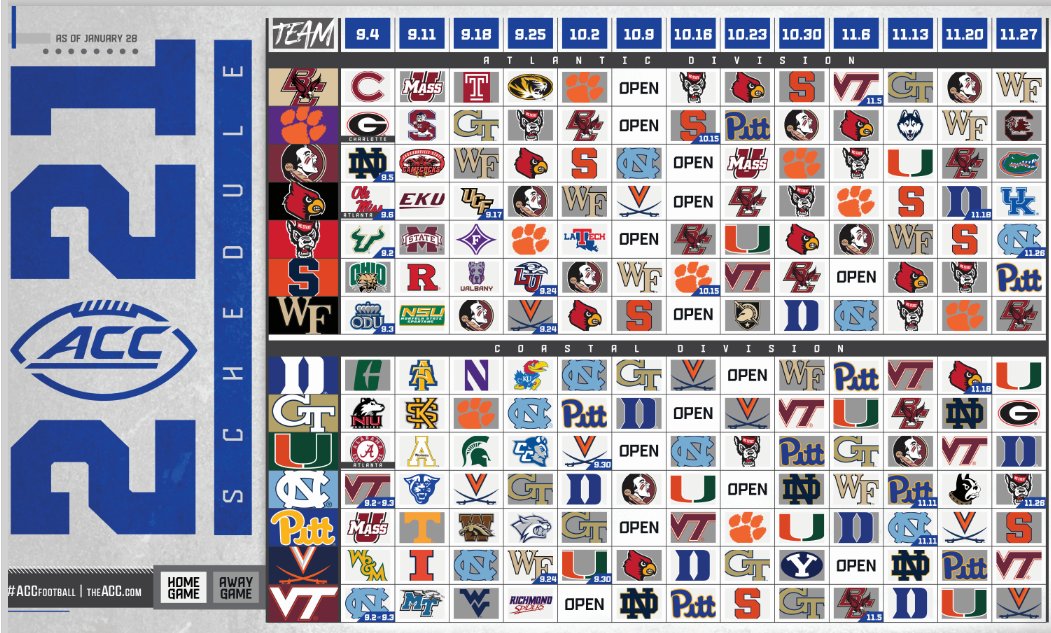 The Tar Heels are 0–12 at Notre Dame Stadium, with the last loss coming 50–43 on Oct. 11, 2014. UNC will get two weeks to prepare for the Irish.
The Tar Heels, who will play seven home games, get three consecutive home ACC games for the first time since 2005, facing Duke on Oct. 2, Florida State on Oct. 9 and Miami on Oct. 16. The other home games, in addition to Wake Forest and Georgia State, are against Virginia on Sept. 18 and Wofford on Nov. 20.
The Seminoles will play in Chapel Hill for the first time since 2009 after their last three meetings in 2010, 2016 and 2020 were all in Tallahassee, Fla.
Road games in addition to going to Blacksburg, Va., South Bend, Ind., and Raleigh will be against Georgia Tech on Sept. 25 and Pittsburgh on Thursday, Nov. 11.
The Jackets and Heels didn't play last season after playing every year from 1980–2019. UNC didn't play Pitt last season for the first time since the Panthers joined the league in 2013.
UNC will play Georgia State, a member of the Sun Belt Conference, and FCS Wofford, a member of the Southern Conference, for the first time. The Panthers play at Auburn on Sept. 25.
Georgia State finished 6–4 last season, with a 39–21 victory over Western Kentucky in a bowl game in Mobile, Ala.
Wofford, which went 8–4 in 2019, didn't play any games in 2020 but will play eight Southern Conference winter/spring 2021 games, starting with Mercer on Feb. 20.
2021 North Carolina football schedule
Thursday, Sept. 2 or Friday, Sept. 3 — at Virginia Tech
Sept. 11 — vs. Georgia State
Sept. 18 — vs. Virginia
Sept. 25 — at Georgia Tech
Oct. 2 — vs. Duke
Oct. 9 — vs. Florida State
Oct. 16 — vs. Miami
Oct. 30 — at Notre Dame
Nov. 6 — vs. Wake Forest (doesn't count in the ACC standings)
Thursday, Nov. 11 — at Pitt
Nov. 20 — vs. Wofford
Friday, Nov. 26 — at N.C. State
Pool photo by Robert Willett