By R.L. Bynum
Eight Tar Heels ranging in age from 19 to 27 are on rosters for the NBA Summer League, which gets underway Sunday and runs until Aug. 17 in Las Vegas.
The oldest is Isaiah Hicks, 27, who is on the Los Angeles Clippers' roster, and the youngest is first-round draft pick Day'Ron Sharpe, 19, who is on the Brooklyn Nets' roster.
Charlotte's roster features two former Carolina guards who were members of the 2017 national championship team in Joel Berry and Kenny Williams.
The only former UNC players playing in the Summer League who were active in the NBA last season are Cole Anthony (Orlando) and Theo Pinson (Milwaukee).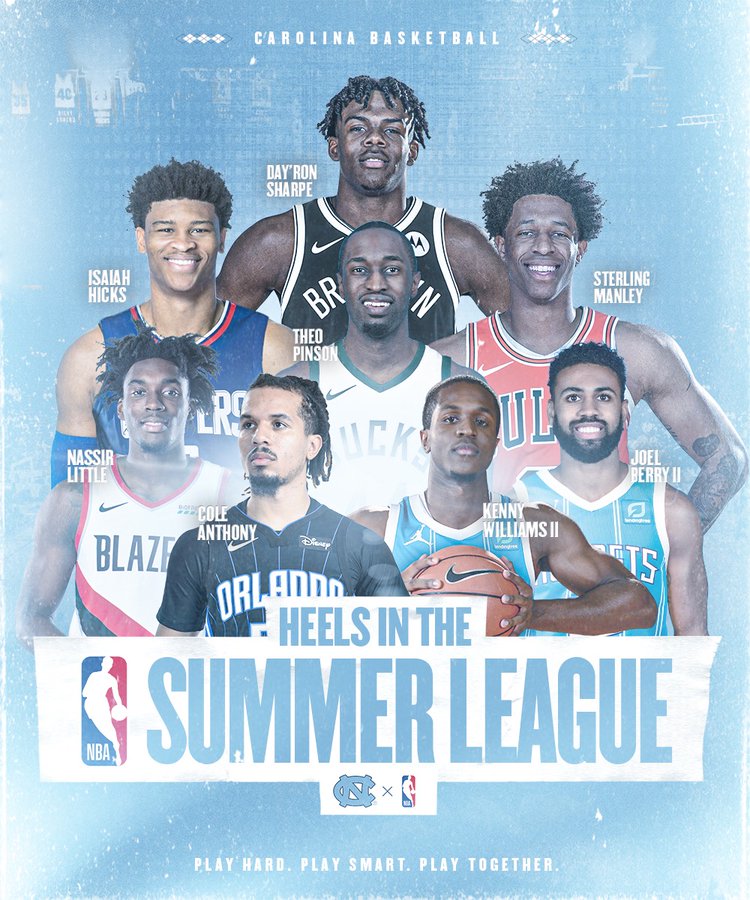 Sterling Manley is on Chicago's Summer League roster.
Portland's Nassir Little practices with the Blazers' Summer League team but management has decided that he won't play in the league this summer.
Each team will play five games and the top two teams advance to a championship game on Aug. 17.
For Anthony, he'll get the chance to learn the system of new Magic coach Jamahl Mosley in his first Summer League action after the league's season was canceled last year. Anthony said that his rookie season might have been easier if had been able to play in the Summer League last year.
"Pretty much I'm a rookie again, just learning his whole new scheme," Anthony said.
The main area Mosley has emphasized for Anthony is defense.
"Coach wants me to be an elite defender," Anthony said. "I don't think I was the best defender last year. But my goal this year is to become a much better defender, give more effort on defense. He keeps telling me he wants me to be more like my dad."
Anthony, the 15th overall pick in the 2020 draft, averaged 15 points, five rebounds and 4.5 assists in the last 22 games after missing 24 games with a rib injury. In 47 games, he averaged 12.9 points and 4.1 assists.
Also on Orlando's Summer League roster is its first-round pick in the 2021 draft and fifth overall pick, former Gonzaga point guard Jalen Suggs.
The only Tar Heel in the Summer League who played more NBA games last season was Little, who averaged 4.6 points in 48 games for the Blazers in his second NBA season. Pinson played sparingly in 17 games for the New York Knicks last season.
Berry played last season in Turkey for Besiktas in the Basketball Super League, averaging 10.1 points in 18 games.
Williams played most recently in Israel.
Hicks played last season for the Seoul Samsung Thunder of the Korean Basketball League, averaging 17.3 points, 7.4 rebounds and 1.5 blocks in 54 games.
Manley, who played in three games for the Tar Heels last season, could have played another season of college basketball but decided to pursue a professional playing career.
In the only Sunday game involving Tar Heels, Charlotte plays Portland at 6 p.m. on NBATV. Stephanie Ready, Steve Smith and Dennis Scott will be on the call for the broadcast.
On Monday, Chicago faces New Orleans at 3 p.m. on ESPN2 (Mark Jones, Doris Burke and Cassidy Hubbarth on the call), Brooklyn faces Memphis at 5 p.m. on ESPN2 (Jones, Burke and Hubbarth), Charlotte meets Sacramento at 6 p.m. on NBATV, (Chris Miles, Greg Anthony and Rebecca Haarlow), Orlando takes on Golden State at 8 p.m. on NBATV (Ready, Smith and Scott) and the Clippers face Milwaukee at 9 p.m. on ESPNU (Beth Mowins, Renee Montgomery and Monica McNutt).
Follow this link to get the entire schedule.
Tar Heels in NBA Summer League
Cole Anthony, 6-3, 190-pound 21-year-old guard, Orlando Magic
Monday vs. Golden State, 8 p.m., NBATV
Wednesday vs. Cleveland, 6 p.m., ESPN2
Thursday vs. Boston, 7 p.m., ESPN2
Sunday vs. Houston, 8 p.m., NBATV
Game TBA Monday, Aug. 16 or Tuesday, Aug. 17
———————————————
Joel Berry, 6-0, 195-pound 26-year-old guard, Charlotte Hornets
93–86 Sunday loss vs. Portland — Didn't play
Monday vs. Sacramento, 6 p.m., NBATV
Thursday vs. San Antonio, 3 p.m., ESPNU
Saturday vs. Toronto, 7 p.m., NBATV
Game TBA Monday, Aug. 16 or Tuesday, Aug. 17
———————————————
Isaiah Hicks, 6-8, 233-pound 27-year-old forward, Los Angeles Clippers
Monday vs. Milwaukee, 9 p.m., NBATV
Tuesday vs. Portland, 11 p.m., ESPNU
Friday vs. Los Angeles Lakers, 10 p.m., NBATV
Saturday vs. Utah, 5 p.m., ESPN2
Game TBA Monday, Aug. 16 or Tuesday, Aug. 17
———————————————
Sterling Manley, 6-11, 250-pound 22-year-old forward-center, Chicago Bulls
Monday vs. New Orleans, 3 p.m., ESPN2
Tuesday vs. San Antonio, 8 p.m., NBATV
Thursday vs. Minnesota, 4 p.m., NBATV
Sunday vs. Memphis, 10 p.m., NBATV
Game TBA Monday, Aug. 16 or Tuesday, Aug. 17
———————————————
Theo Pinson, 6-5, 212-pound 25-year-old guard, Milwaukee Bucks
Monday vs. Los Angeles Clippers, 9 p.m., NBATV
Wednesday vs. Brooklyn, 4 p.m., ESPN2
Friday vs. Minnesota, 4 p.m., NBATV
Saturday vs. Washington, 4 p.m., NBATV
Game TBA Monday, Aug. 16 or Tuesday, Aug. 17
———————————————
Day'Ron Sharpe, 6-11, 265-pound 19-year-old center, Brooklyn Nets
Monday vs. Memphis, 5 p.m., ESPN2
Wednesday vs. Milwaukee, 4 p.m., ESPN2
Thursday vs. Washington, 5 p.m., ESPNU
Sunday vs. San Antonio, 6 p.m., NBATV
Game TBA Monday, Aug. 16 or Tuesday, Aug. 17
———————————————
Kenny Williams, 6-4, 185-pound 24-year old guard, Charlotte Hornets93–86 Sunday loss vs. Portland — Didn't play
Monday vs. Sacramento, 6 p.m., NBATV
Thursday vs. San Antonio, 3 p.m., ESPNU
Saturday vs. Toronto, 7 p.m., NBATV
Game TBA Monday, Aug. 16 or Tuesday, Aug. 17