By R.L. Bynum
Coach Hubert Davis' first North Carolina team is ranked No. 19 in the preseason AP poll, which was released Monday, and will have eight games against teams in the poll.
This is the 16th consecutive season that the Tar Heels are ranked in the preseason poll and the 929th time they have been ranked, more than any other school. This is the 65th season in the 74-year history of the poll that UNC has been ranked at least once.
Duke is the highest-ranked ACC team at No. 9. Other ranked league teams are No. 20 Florida State and No. 25 Virginia. Virginia Tech, Syracuse, Notre Dame and Louisville received votes.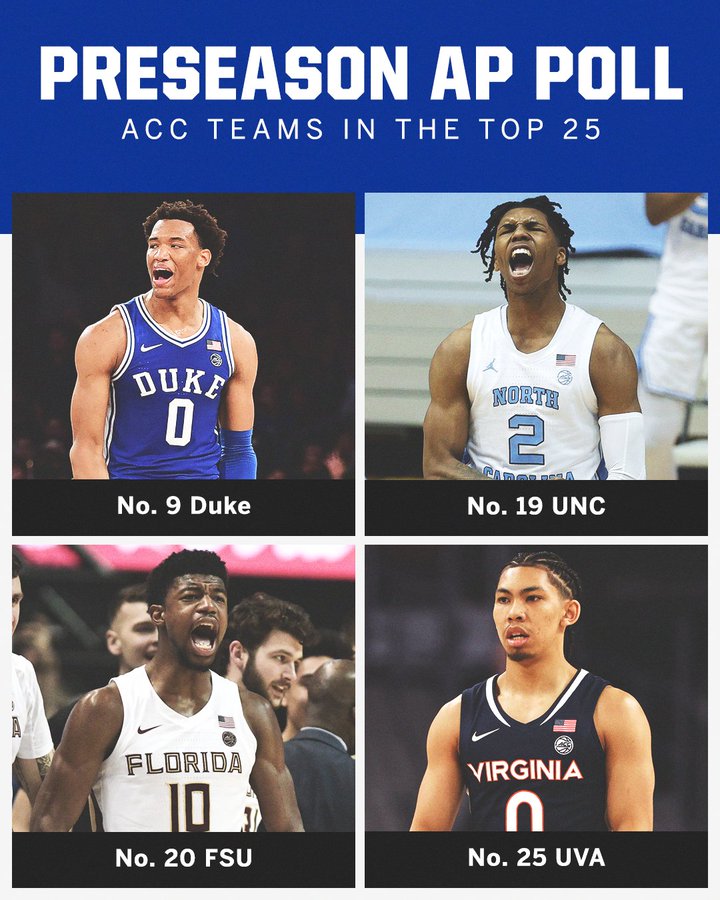 Gonzaga is No. 1 with 55 first-place votes and UCLA is No. 2 with eight first-place votes.
Ranked teams on UNC's schedule are UCLA (Dec. 18 in Las Vegas), No. 6 Michigan (Dec. 1 in Chapel Hill), No. 7 Purdue (Nov. 20 in Uncasville, Conn., for the first round of the Basketball Hall of Fame Tipoff), No. 9 Duke (Feb. 5 in Chapel Hill and March 5 in Durham), No. 20 Florida State (Feb. 12 in Chapel Hill) and No. 25 Virginia (Jan. 8 in Chapel Hill).
UNC will face either No. 4 Villanova or No. 18 Tennessee in Uncasville, Conn., on Nov. 21 in the Hall of Fame Tipoff championship or consolation.
The positive for that tough schedule is that Duke will be the only ranked team in the preseason poll that Carolina will have to play on the opponent's home court.
This is only the second time time since 1966 that Carolina has been ranked in double-digits in consecutive preseason polls. It also happened in 2012–13 (No. 12; the last ranking was No. 19 in week 7) and 2013–14 (No. 11; was No. 21 in the final poll.) UNC also went from a No. 19 preseason ranking in the 2001–02 season to being unranked in the 2002–03 preseason poll.
Since 1973, UNC has only been left out of the preseason AP poll in three seasons: 1984–85 (was ranked No. 6 at one point), 2002–03 (ranked No. 14 at one point) and in 2005–06 (ranked No. 10 in final poll).
Here are Carolina's preseason rankings since the Tar Heels opened the 2015–16 season at No. 1 and finished No. 9 on their way to the NCAA final:
— 2020–21: No. 16; finished unranked, 18–11; the last ranking was No. 17 on Dec. 21
— 2019–20: No. 9; finished unranked, 14–19; the last ranking was No. 17 on Dec. 9
— 2018–19: No. 8; ranked season-high No. 3 for last three polls; finished 29–7
— 2017–18: No. 9; finished No. 10, 26–11
— 2016–17: No. 6; finished No. 6, 33–6; peaked at No. 3 on Nov. 28; won NCAA title
Luke DeCock of The News & Observer voted UNC No. 17, Lauren Brownlow of WRALSportsFan.com ranked UNC No. 21 and Ethan Joyce of the Winston-Salem Journal put the Heels at No. 23.
Carolina plays a closed scrimmage at Florida on Saturday, Oct. 23 before facing Elizabeth City State in a home exhibition game Friday, Nov. 5 at 7:30 p.m. The Tar Heels open the season on Tuesday, Nov. 9 at 7:30 against Loyola of Maryland.
AP preseason Top 25
Others receiving votes: Michigan State 87, Indiana 41, USC 30, Arizona 26, Virginia Tech 25, Oklahoma State 25, Xavier 22, Texas Tech 17, Richmond 13, Rutgers 11, Colorado State 11, LSU 7, Belmont 7, San Diego State 5, St. John's 5, Mississippi State 5, Syracuse 5, Drake 4, Colorado 4, BYU 3, Notre Dame 3, Louisville 3.
Point values in parentheses indicate the number of first place votes.