By R.L. Bynum
Carolina is picked to finish third in the ACC and Armando Bacot is preseason All-ACC team in voting of 81 media representatives covering the league that was announced Tuesday.
Joining Bacot on the first team are Syracuse's Buddy Boeheim, Virginia Tech's Keve Aluma, Duke's Paolo Banchero and Miami's Isaiah Wong.
Carolina point guard Caleb Love made second team.
Banchero, a 6-10, 250-pound power forward from Seattle, is preseason player of the year and preseason rookie of the year, the first player to get both honors.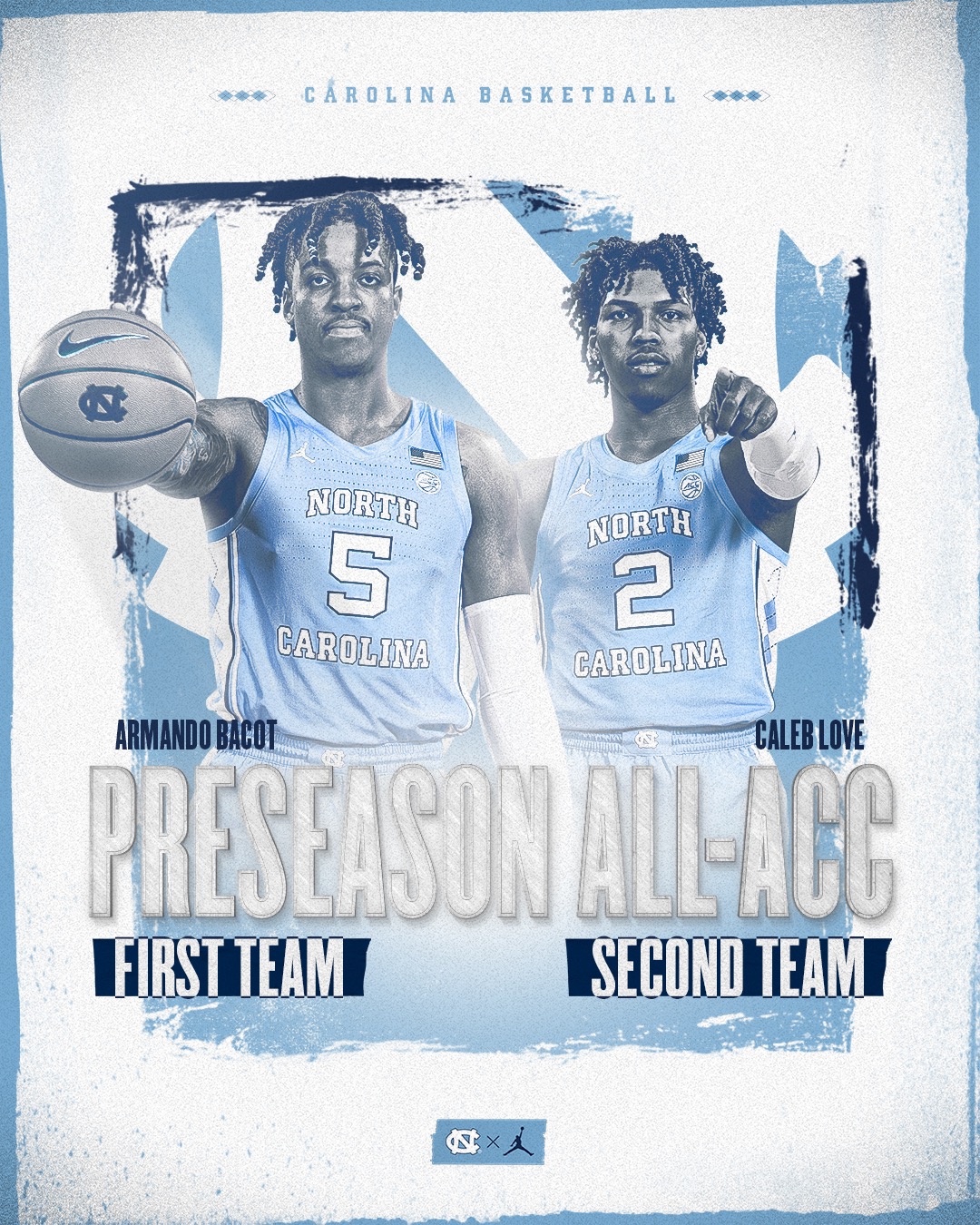 For the fourth time in five seasons and seventh time in last nine seasons, Duke is the favorite to win the league with 47 first-place votes.
Florida State is picked to finish second, the highest ACC preseason ranking in school history, with 14 first-place votes.
The Tar Heels, who got five first-place votes, are the highest in the preseason ACC poll since being the co-favorite with Virginia in 2018–19. The Tar Heels were last picked to win the league in 2015–16, and won the regular season and tournament titles that season.

Virginia (nine first-place votes) is picked fourth, followed by Virginia Tech (5), Louisville (1), Syracuse, Notre Dame, N.C. State, Georgia Tech, Clemson, Miami, Wake Forest, Pittsburgh and Boston College.
While some Carolina fans might not be happy to see Duke again picked to finish first, they should be happy with what recent history suggests happens in these cases.
The previous six times Duke was picked to finish first, the Blue Devils fell short of that prediction (2010–11, finished second; 2013–14, tied for third; 2014–15, second; 2017–18, second; 2018–19, third; and 2019–20, second.)
UNC finished ahead of Duke in two of those seasons — first in 2010–11 and 2018–19 — and tied for third with the Blue Devils in 2013–14.
Predicted order of finish
(first-place votes)
1. Duke (47) 1,132
2. Florida State (14) 1,034
3. North Carolina (5) 1,001
4. Virginia (9) 949
5. Virginia Tech (5) 857
6. Louisville (1) 791
7. Syracuse 781
8. Notre Dame 599
9. N.C. State 555
10. Georgia Tech 524
11. Clemson 430
12. Miami 428
13. Wake Forest 274
14. Pittsburgh 253
15. Boston College 112
Preseason All-ACC
Buddy Boeheim, Syracuse 68
Keve Aluma, Virginia Tech 52
Paolo Banchero, Duke 49
Armando Bacot, UNC 46
Isaiah Wong, Miami 37
All-ACC second team
Michael Devoe, Georgia Tech 25
Kihei Clark, Virginia 23
Prentiss Hubb, Notre Dame 17
Mark Williams, Duke 12
Wendell Moore Jr., Duke 9
Caleb Love, UNC 9
Malik Williams, Louisville 9
Preseason player of the year
Paolo Banchero, Duke 28
Keve Aluma, Virginia Tech 16
Buddy Boeheim, Syracuse 13
Armando Bacot, UNC 12
Kihei Clark, Virginia 5
Wendell Moore Jr., Duke 3
Caleb Love, UNC 2
Mark Williams, Duke 2
Preseason rookie of the year
Paolo Banchero, Duke 64
Trevor Keels, Duke 5
Terquavion Smith, N.C. State 3
Dontrez Styles, UNC 3
Igor Milicic Jr., Virginia 3
Wooga Poplar, Miami 1
Benny Williams, Syracuse 1
Cameron Hildreth, Wake Forest 1