By R.L. Bynum
It was the most successful collective night of the season for Tar Heels in the NBA.
The night included the return from injury for big nights by Harrison Barnes and Nassir Little, another monster game for Cole Anthony and Reggie Bullock's best game of the season.
Barnes returned for Sacramento after missing five games with a right foot sprain to score 16 points in the headline game of the night. The Kings earned a wild 142–130 home victory over Orlando despite a season-high-tying 33 points from Cole Anthony.
The game score of 26.0 was Anthony's fourth of more than 25 this season. A 21.9 in a 37-point night at Philadelphia (in the season finale) was the best game score of his rookie season. He had eight assists, the sixth game this season with at least eight.
All the big individual numbers didn't mean anything for Anthony because his team lost.
"I'm still tired," said Anthony, who rebounded from a season-low nine points Monday at Golden State. "We got into a shootout and lost. That's not how we want to play. We have to hold ourselves to higher standards. And we just have to have, at the end of the day, the mentality that we want to guard, and tonight we didn't have that."
During the game, Anthony went over the 1,000 career points milestone and has 1,011.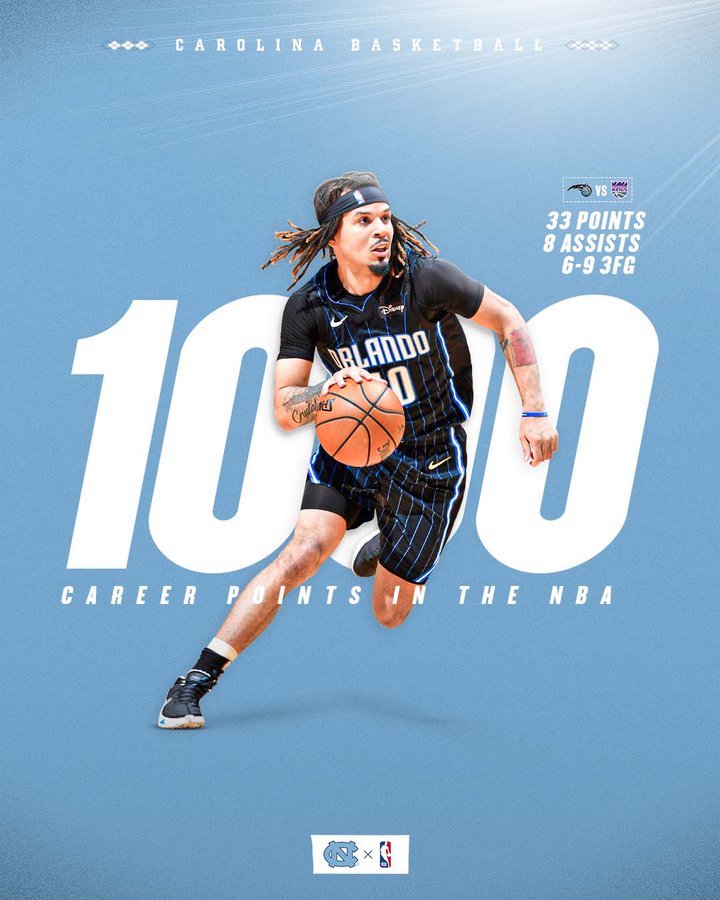 One of Anthony's career-high-tying six 3-pointers with 11:12 left in the third quarter gave Orlando a 72–70 lead, but Sacramento responded with a 16–2 run and controlled the game from there.
Anthony also had six 3-pointers in his 31-point game at Minnesota on Nov. 1 after never scoring more than four 3-pointers during his rookie season.
Barnes had a steal and a layup during that big third-quarter run. And then his 3-pointer with 6:08 left put the Kings up 89–76.
It was the third consecutive loss and 10th in the last 11 for the Magic (5–21) but the third win in a row for the Kings (11–14), who are 5–3 under interim coach Alvin Gentry.
"It was great being out there with the guys again," said Barnes, who played a game Saturday with the G League Stockton Kings before returning to the Sacramento lineup. "Obviously you've got to take some time to work yourself back and in the flow of things. But I was happy to come in. Glad we got to win, and continue to play well."
Barnes said that getting injured was initially nerve-wracking.
"You don't quite know, you just feel that pain and that was something unusual for me," said Barnes, who is one 3-pointer away from 900 for his career. "So, just once I got the X-rays back and those were clear, it was just a matter of getting back to a place where I was comfortable. The biggest thing I didn't want was to come back in and hurt my team out there, limping around and just being a liability."
---
After scoring six points in Dallas' 102–99 Tuesday home loss to Brooklyn for his 12th consecutive single-digit scoring game, Reggie Bullock had his best game of the season Wednesday in the Mavericks' 104–96 win at Memphis.
Starting for the fifth consecutive game, Bullock collected 15 points, two rebounds, four assists, a steal and a block for a season-high 16.4 game score. He topped that game score only twice last season for the New York Knicks.
He scored a season-high-tying four 3-pointers on six attempts. Bullock had made only 8 of 55 attempts over the previous 12 games. Bullock said that the organization supported him through the struggles and that he was happy to finally find some success.
"It's just all about me just catching the rhythm, being ready to shoot it every time and I just felt confident seeing one go in," Bullock said. "I know it's been a long time coming, but it's good to see one go in and, as you see one go in, you just continue to build off of it."
Dallas coach Jason Kidd praised Bullock's offensive game and movement without the ball.
"Some of the things, understanding space, just his shooting ability, he creates space on the floor," Kidd said. "So, for him to be able to move the pieces [is good] because, again, we are a jump-shooting team. With Luca [Doncic] handling the ball 90% of the time, it can get where we stand around waiting for Luca. I thought today's reads of being able to slot cut or being able to baseline cut were great."
In a colorful way, Bullock said that Kidd is a player's coach and just kept pushing him to keep shooting even through his struggles.
"He definitely instills a lot of motivation and confidence into his players," Bullock said. "He don't really care if the mother*****r hits the side of backboard, as long as, as a shooter, you've got the confidence to keep shooting and believe in the shot, believing in your work ethic and believing in your routine."
---
In only his third start of the season, Little scored had 18 points and six rebounds in 26 minutes as Portland lost 104–94 at Golden State. His game score was 14.2 was topped only this season by a 14.5 in his 13 point, 14 rebound game at Houston on Nov. 12.
He had an impressive second-quarter block against Golden State's Juan Toscano-Anderson.
After missing his first three shots of the second half, Little left with a calf cramp with nine minutes remaining in the third quarter and didn't return.
---
Danny Green collected six points, five rebounds, three assists and two blocks in Philadelphia's 110–106 win at Charlotte. It was his third consecutive game with two blocks and second consecutive game with three assists.
---
Tony Bradley had two points and seven assists in 14 minutes of Chicago's 115–92 loss at Cleveland. Ed Davis didn't play for the third consecutive Cavaliers game. The Bulls' Coby White is still sidelined under the NBA's health-and-safety protocols.
---
Wayne Ellington scored six points on a pair of 3-pointers in 13 minutes of the Los Angeles Lakers' 117–102 home win Tuesday over Boston.
---
Day'Ron Sharpe was inactive for the Brooklyn Nets' games in Dallas on Tuesday and in Houston on Wednesday and is expected to play for the G League Long Island Nets this week. Long Island is at home Thursday and Saturday against College Park (the Hawks' affiliate.)
(Tuesday and Wednesday)
Cole Anthony, Orlando Magic guard
142–130 Wednesday loss at Sacramento — Started, 35 minutes, 33 points, 12–22 FG, 6–9 3FG, 3–4 FT, 4 rebounds, 8 assists, 1 steal, 3 turnovers, -6, 26.0 game score
Season statistics — 20 games, 20.3 points, 42.9 FG%, 36.4 3FG%, 87.0 FT%, 6.2 rebounds, 5.9 assists
Up next — 3:30 p.m. Saturday at Los Angeles Clippers; 9:30 Sunday at Los Angeles Lakers
———————————————
Harrison Barnes, Sacramento Kings forward
142–130 Wednesday win vs. Orlando — Started; 30 minutes, 16 points, 5–11 FG, 2–4 3FG, 4–5 FT, 5 rebounds, 3 assists, 1 steal, +11, 14.1 game score
Season statistics — 20 games, 18.9 points, 47.7 FG%, 40.2 3FG%, 84.4 FT%, 7.1 rebounds, 2.5 assists
Up next — 7 p.m. Friday at Charlotte, BSSE; 8 p.m. Saturday at Cleveland
———————————————
Tony Bradley, Chicago Bulls center
115–92 Wednesday loss at Cleveland — 14 minutes, 2 points, 1–3 FG, 7 rebounds, 1 assist, 2 turnovers, -5, 1.9 game score
Season statistics — 20 games, 3.5 points, 55.2 FG%, 4.4 rebounds, 0.5 of an assist
Up next — 8 p.m. Saturday at Miami; 8 p.m. Tuesday vs. Detroit
———————————————
Reggie Bullock, Dallas Mavericks guard/forward
102–99 Tuesday loss vs. Brooklyn — Started; 28 minutes, 6 points, 3–10 FG, 0–6 3FG, 2 rebounds, 1 block, +8
104–96 Wednesday win at Memphis — Started; 30 minutes, 15 points, 5–7 FG, 4–6 3FG, 1–1 FT, 2 rebounds, 4 assists, 1 steal, 1 block, +5, 16.4 game score
Season statistics — 23 games, 6.0 points, 35.9 FG%, 28.2 3P%, 66.7 FT%, 2.7 rebounds, 0.7 of an assist
Up next — 7 p.m. Friday at Indiana; 7 p.m. Sunday at Oklahoma City
———————————————
Ed Davis, Cleveland Cavaliers center
115–92 Wednesday win vs. Chicago — Didn't play (coach's decision) for the third consecutive game
Season statistics — 9 games, 1.7 points, 70.0 FG%, 50.0 FT%, 3.2 rebounds, 0.1 of an assist
Up next — 8 p.m. Friday at Minnesota; 8 p.m. Saturday vs. Sacramento
———————————————
Wayne Ellington, Los Angeles Lakers guard
117–102 Tuesday win vs. Boston — 13 minutes, 6 points, 2–4 FG, 2–4 3FG, 1 rebound, +3
Season statistics — 17 games, 6.6 points, 40.7 FG%, 40.0 3FG%, 4–4 FT, 1.5 rebounds, 0.6 of an assist
Up next — 8 p.m. Thursday at Memphis; 8 p.m. Friday at Oklahoma City
———————————————
Danny Green, Philadelphia 76ers forward
110–106 Wednesday win at Charlotte — Started; 26 minutes, 6 points, 2–6 FG, 2–5 3FG, 5 rebounds, 3 assists, 2 blocks, 2 turnovers, +2, 4.4 game score
Season statistics — 18 games, 7.8 points, 45.4 FG%, 41.8 3FG%, 4–4 FT, 2.6 rebounds, 1.2 assists
Up next — 7 p.m. Thursday vs. Utah, NBATV; 8:30 Saturday vs. Golden State, ABC (WTVD in Triangle)
———————————————
Cameron Johnson, Phoenix Suns wing
Off Tuesday and Wednesday
Season statistics — 24 games, 9.5 points, 41.9 FG%, 39.8 3FG%, 3.3 rebounds, 1.3 assists
Up next — 10 p.m. Friday vs. Boston, ESPN; 10:30 p.m. Monday, Dec. 13, at Los Angeles Clippers, NBATV
———————————————
Nassir Little, Portland Trail Blazers wing
104–94 Wednesday loss at Golden State — Started; 26 minutes, 18 points, 5–8 FG, 2–4 3FG, 6–10 FT, 6 rebounds, 1 assist, 1 block, 1 turnover, -6, 14.2 game score
Season statistics — 22 games, 8.7 points, 48.6 FG%, 32.8 3P%, 76.9 FT%, 5.4 rebounds, 0.8 of an assist
Up next — 9 p.m. Sunday vs. Minnesota; 10 p.m. Tuesday vs. Phoenix, TNT
———————————————
Day'Ron Sharpe, Brooklyn Nets center
102–99 Tuesday win at Dallas and 114–104 loss Wednesday at Houston — Not active for either game
Season NBA statistics — 8 games, 2.6 points, 52.9 FG%, 33.3% 3P%, 2–5 FT, 2.1 rebounds
Season G League statistics — 3 games, 16.3 points, 47.8 FG%, 33.33P%, 90.0 FT%, 10.3 rebounds, 1.3 steals, 2.3 blocks
Up next — Likely plays for G League Long Island Nets at 7 p.m. Thursday and Saturday at home vs. College Park (Hawks affiliate)
———————————————
Coby White, Chicago Bulls guard
115–92 Wednesday loss at Cleveland — Out under NBA health-and-safety protocols after testing positive for COVID-19, although fully vaccinated
Season statistics — 9 games, 6.1 points, 34.9 FG%, 22.6 3P%, 2.6 rebounds, 1.3 assists
Up next — 8 p.m. Saturday at Miami; 8 p.m. Tuesday vs. Detroit
———————————————
In G League
Justin Jackson, Texas Legends (Mavericks affiliate) forward
Season statistics — 6 games, 22.5 points, 49.0% FG, 44.6% 3FG, 72.7 FT%, 8.0 rebounds, 3.3 assists, 0.7 of a steal
Up next — 8 p.m. Thursday, 8:30 p.m. Saturday vs. Austin Spurs
———————————————
Theo Pinson, Maine Celtics guard
Season statistics — 8 games, 19.1 points, 48.1 FG%, 44.4 3FG%, 89.5 FT%, 4.9 rebounds, 3.8 assists, 1.4 steals
Up next — 7:30 p.m. Thursday and 2 p.m. Saturday vs. Raptors 905
———————————————