By R.L. Bynum
Nassir Little had his best game of the season Monday on a night when Danny Green and Day'Ron Sharpe returned from the NBA's health-and-safety protocols and the return of Lonzo Ball meant that Coby White was back to coming off the Chicago bench.
Little started his 10th consecutive game in Portland's 136–131 home victory over Atlanta and had it all going. He collected a season-high 22 points, nine rebounds, two assists and a steal for a season-high 20.3 game score. That is second only in his career to a 26.9 game score in last season's 30-point game on Feb. 1 at Milwaukee.
Trae Young scored 56 points for Atlanta and Anfernee Simmons had 43 for the Trail Blazers.
When the Hawks gave more defensive attention to Simmons, Little took advantage and made some big 3-pointers. One of Little's season-high four 3-pointers gave Portland a 112–107 lead with 7:43 left.
On the "Posted Up with Chris Haynes" podcast, Little talked about his expanded role with Portland and the adversity he faced at Carolina and in his NBA career.
---
Although White didn't start in Chicago's 102–98 victory over Orlando, he played more minutes than Ball (34–32) and had a better game. White started all five games while Ball was in the NBA's health-and-safety protocols.
While White had 17 points, two 3-pointers, two rebounds, two assists and a block, Ball struggled with his shot, going 1 of 8 from the floor and 1 of 7 from 3-point range to score three points.
Chicago, which also got Coach Billy Donovan back from the protocols, extended its win streak to eight games and has the best record in the Eastern Conference at 25–10.
Tony Bradley is still in the protocols and missed his sixth consecutive game.
Cole Anthony missed Orlando's game in Chicago on Monday and the Magic's 116–111 Sunday loss at Boston. He has missed eight of the last nine games, and the last five, with a right ankle sprain. He missed six November games with the same injury.
---
Green scored six points on two first-half 3-pointers in 23 minutes in his return after missing four games as Philadelphia won at home over Houston 133–113.
---
Sharpe contributed six points and four rebounds in his return after missing five games. Brooklyn lost at home 118–104 home loss to Memphis to fall to 23–12, two games back of Chicago in the Eastern Conference standings.
---
Reggie Bullock had 15 points and four 3-pointers in Dallas' 95–86 Monday home win over Denver after scoring six in the Mavericks' 95–86 Sunday win over Oklahoma City. Theo Pinson was scoreless with limited playing time in both games.
---
In Phoenix's 133–99 Sunday win at Charlotte, Cameron Johnson was +34 with 14 points, two rebounds, three assists and a 12.4 game score. In his fourth consecutive start, Johnson extended his career-high streak of double-figure scoring games to 16.
With three 3-pointers, Johnson passed Danny Ainge for 16th on the all-time Suns 3-pointers list with 310.
As expected, the Suns signed Justin Jackson to a 10-day contract Tuesday.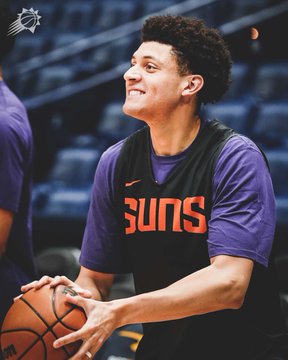 ---
In Sacramento's 115–110 Sunday home win over Miami, Harrison Barnes collected 10 points, two rebounds and two blocks.
(Sunday and Monday)
Cole Anthony, Orlando Magic guard
116–111 Sunday loss at Boston and 102–98 Monday loss at Chicago — Missed both games, has missed five games in a row with right ankle sprain
Season statistics — 24 games, 20.0 points, 41.8 FG%, 35.4 3FG%, 87.5 FT%, 6.0 rebounds, 5.8 assists
Up next — 7 p.m. Wednesday vs. Philadelphia; 7 p.m. Saturday at Detroit
———————————————
Harrison Barnes, Sacramento Kings forward
115–110 Sunday win vs. Miami — Started; 10 points, 4–7 FG, 2–4 3FG, 2 rebounds, 1 steal, 2 blocks, 4 turnovers, -2, 4.5 game score
Season statistics — 33 games, 16.8 points, 44.9 FG%, 41.5 3FG%, 83.9 FT%, 6.1 rebounds, 2.3 assists
Up next — 10:30 Tuesday at Los Angeles Lakers, NBATV; 10 p.m. Wednesday vs. Atlanta 
———————————————
Tony Bradley, Chicago Bulls center
102–98 Monday win vs. Orlando — Missed sixth consecutive game; Bradley on NBA health-and-safety protocols
Season statistics — 23 games, 3.7 points, 57.4 FG%, 4.4 rebounds, 0.6 of an assist
Up next — 8 p.m. Friday vs. Washington; 7:30 Sunday at Dallas
———————————————
Reggie Bullock, Dallas Mavericks guard/forward
95–86 Sunday win at Oklahoma City — 27 minutes, 6 points, 2–5 FG, 2–4 3FG, 3 rebounds, 2 assists, 2 steals, 1 block, +8, 8.3 game score
103–89 Monday win vs. Denver — 29 minutes, 15 points, 5–11 FG, 4–8 3FG, 1–1 FT, 2 rebounds, 1 assist, 1 steal, +11, 11.2 game score
Season statistics — 30 games, 6.3 points, 37.4 FG%, 30.6 3P%, 75.0 FT%, 2.8 rebounds, 1.0 assists
Up next — 7:30 Wednesday vs. Golden State, ESPN; 8 p.m. Friday at Houston
———————————————
Ed Davis, Cleveland Cavaliers center
108–104 Sunday win vs. Indiana — Didn't play
Season statistics — 12 games, 1.6 points, 75.0 FG%, 16.7 FT%, 3.1 rebounds, 0.1 of an assist
Up next — 7 p.m. Tuesday vs. Memphis; 10 p.m. Friday at Portland
———————————————
Wayne Ellington, Los Angeles Lakers guard
108–103 Sunday win vs. Minnesota — Didn't play (coach's decision)
Season statistics — 27 games, 6.4 points, 38.7 FG%, 37.7 3FG%, 4–5 FT, 1.7 rebounds, 0.8 of an assist
Up next — 10:30 Tuesday vs. Sacramento, NBATV; 10 p.m. Friday vs. Atlanta, ESPN
———————————————
Danny Green, Philadelphia 76ers forward
133–113 Monday win vs. Houston — Started; 23 minutes, 6 points, 2–3 FG, 2–3 3FG, 1 rebound, 1 assist, 1 block, 1 turnover, +8, 4.6 game score
Season statistics — 25 games, 7.0 points, 41.1 FG%, 38.1 3FG%, 8–8 FT, 2.7 rebounds, 1.2 assists
Up next — 7 p.m. Wednesday at Orlando; 7 p.m. Friday vs. San Antonio
———————————————
Justin Jackson, Phoenix Suns forward
Reportedly will sign a 10-day contract with Phoenix
NBA season statistics — 1 game, 2 points, 0–1 FG, 2–2 FT
G League season statistics for Texas Legends (Mavericks affiliate) — 10 games, 22.7 points, 47.3% FG, 41.4% 3FG, 79.2 FT%, 7.7 rebounds, 3.1 assists, 1.0 steals
Up next — 8 p.m. Tuesday at New Orleans; 10 p.m. Thursday vs. Los Angeles Clippers  
———————————————
Justin Jackson, Phoenix Suns forward
NBA season statistics — 1 game, 2 points, 0–1 FG, 2–2 FT
G League season statistics for Texas Legends (Mavericks affiliate) — 10 games, 22.7 points, 47.3% FG, 41.4% 3FG, 79.2 FT%, 7.7 rebounds, 3.1 assists, 1.0 steals
Up next — 8 p.m. Tuesday at New Orleans; 10 p.m. Thursday vs. Los Angeles Clippers  
———————————————
Cameron Johnson, Phoenix Suns wing
133–99 Sunday win at Charlotte — Started; 29 minutes, 14 points, 4–7 FG, 3–6 3FG, 3–3 FT, 2 rebounds, 3 assists, 1 turnover, +34, 12.4 game score
Season statistics — 36 games, 11.4 points, 45.2 FG%, 43.1 3FG%, 4.1 rebounds, 1.3 assists
Up next — 8 p.m. Tuesday at New Orleans; 10 p.m. Thursday vs. Los Angeles Clippers, TNT 
———————————————
Nassir Little, Portland Trail Blazers wing
136–131 Monday win vs. Atlanta — Started; 22 points, 8–14 FG, 4–5 3FG, 2–3 FT, 9 rebounds, 2 assists, 1 steal, 1 turnover, +17, 20.3 game score
Season statistics — 31 games, 8.9 points, 47.1 FG%, 30.9 3P%, 73.4 FT%, 5.6 rebounds, 1.1 assists
Up next — 10 p.m. Wednesday vs. Miami; 10 p.m. Friday vs. Cleveland
———————————————
Theo Pinson, Dallas Mavericks guard
95–86 Sunday win at Oklahoma City — 12 seconds, 0 points, +/- of 0, 0.0 game score
103–89 Monday win vs. Denver — 2 minutes, 0 points, 0–1 FG, 0–1 3FG, -1, -0.7 game score
NBA season statistics — 8 games, 3.1 points, 32.0 FG, 27.8 3FG, 4–4 FT, 2.0 rebounds, 1.4 assists
G League season statistics with Maine Celtics — 13 games, 15.1 points, 43.4 FG%, 40.6 3FG%, 88.5 FT%, 6.6 rebounds, 5.1 assists, 1.2 steals
Up next — 7:30 Wednesday vs. Golden State, ESPN; 8 p.m. Friday at Houston
———————————————
Day'Ron Sharpe, Brooklyn Nets center
118–104 loss Monday vs. Memphis — 9 minutes, 6 points, 3–3 FG, 4 rebounds, +13, 4.7 game score
Season NBA statistics — 11 games, 3.4 points, 64.0 FG%, 33.3% 3P%, 4–11 FT, 3.0 rebounds
Season G League statistics — 4 games, 18.0 points, 47.8 FG%, 33.33P%, 85.7 FT%, 9.8 rebounds, 1.4 steals, 2.6 blocks
Up next — 7:30 Wednesday at Indiana; 7:30 Friday vs. Milwaukee, ESPN
———————————————
Coby White, Chicago Bulls guard
102–98 Monday win vs. Orlando — 35 minutes, 17 points, 7–11 FG, 2–5 3FG, 1–1 FT, 2 rebounds, 2 assists, 1 block, 1 turnover, +3, 13.4 game score
Season statistics — 17 games, 10.8 points, 42.3 FG%, 35.7 3P%, 2.6 rebounds, 2.4 assists
Up next — 8 p.m. Friday vs. Washington; 7:30 Sunday at Dallas
———————————————