By R.L. Bynum
Carolina will try to rebound from a losing football season without record-breaking quarterback Sam Howell against a challenging schedule with a soft start.
Announced Monday night, the schedule includes four teams ranked in the final AP Top 25, seven that earned bowl bids and another that made the FCS playoffs.
The Tar Heels (6–7, 3–5 last season) open Saturday, Aug. 27 at home against Florida A&M and again finish the regular season against N.C. State (9–3, 6–2, No. 20 in the final poll) on a Friday, this time at Kenan Stadium on Nov. 25. No game times have been set.
Also announced on Monday: UNC's spring game at 3 p.m. on Saturday, April 9, will air on ACC Network. With two-hour broadcast windows, ACC Network will air the Boston College game that day at 11 a.m. and the Clemson game at 1 p.m., with the Florida State game at 5 p.m. and the N.C. State game at 7 p.m.
Jacolby Criswell (top photo) and Drake Maye will compete to take Howell's place as the Tar Heels' starting quarterback.
Florida A&M, who will face UNC for the first time, went 7–1 in its first season in the SWAC. The Rattlers went 9–3 last season and lost 38–14 in the first round of the FCS playoffs to Southeastern Louisiana. It's the first season opener against a non-conference team since Cal came to Kenan Stadium in 2017.
UNC then goes on the road the next two weeks against Sun Belt Conference teams, facing Appalachian State on Saturday, Sept 3, and Georgia State on Saturday, Sept 10.
The Mountaineers, who went 10–4 overall and 7–1 in the Sun Belt, lost 24–16 to Louisiana in the Sun Belt championship game and 59–38 to Western Kentucky in the Boca Raton Bowl.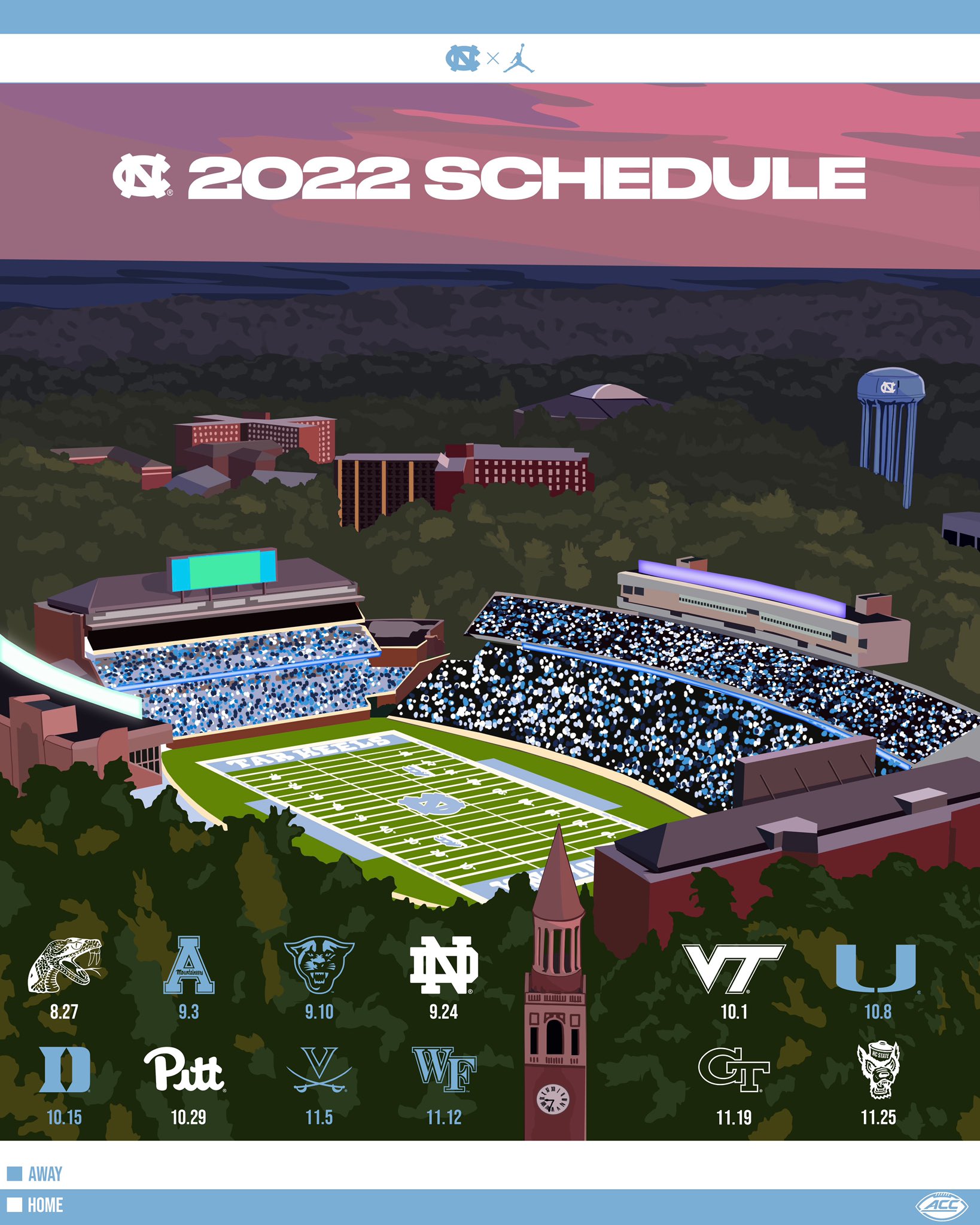 The schools have split two meetings all-time with UNC winning 56–6 in 1940 and Appalachian winning 34–31 in 2019. This will be the first meeting in Boone.
The Panthers, who lost 59–17 last season at Kenan Stadium in the schools' first all-time meeting, went 8–5 overall and 6–2 in the league and rolled to a 51–20 victory over Ball State in the Camellia Bowl. Next season's game will be in Center Parc Stadium, which is the reconfigured former Turner Field and, previous to that, Olympic Stadium.
UNC then gets a week off before returning home on Saturday, Sept. 24, to face Notre Dame for a third consecutive season. The Irish, who beat UNC 44–34 in South Bend last season, went 11–2, lost 37–35 to Oklahoma State in the Fiesta Bowl and finished No. 8.
For the second consecutive season, Carolina's first ACC opponent is Virginia Tech (6–7, 4–4), this time at Kenan Stadium on Saturday, Oct.1. The Hokies, who beat UNC in the season opener last season 17–10, changed coaches with Justin Fuentes fired and Brent Pry hired. It's the 19th consecutive season the teams have met as ACC opponents.
Carolina goes to Miami (7–5, 5–3), which lost 45–52 to Carolina in Chapel Hill last season, on Saturday, Oct. 8. The Heels have won the last three meetings.
On Saturday, Oct. 15, UNC plays at Duke (3–9, 0–8), which lost to UNC 38–7 last season in Chapel Hill. UNC coach Mack Brown has won 11 consecutive games against the Blue Devils. After 14 seasons under Coach David Cutcliffe, former Texas A&M defensive coordinator Mike Elko has taken over as Duke's head coach.
After the Tar Heels second week off, they are at home against reigning ACC champion Pittsburgh (11–3, 8–1, No. 13) on Saturday, Oct. 29. The Panthers, who lost 31–21 to Michigan State in the Peach Bowl, beat the Heels 30–23 in overtime in Pittsburgh last season. It's Pitt's first visit since 2018 to Chape Hill, where it is 0–6.
UNC visits Virginia (6–5, 4–4) on Saturday, Nov. 5, after rolling to a 59–39 win at Kenan Stadium last season. The Cavaliers earned a Fenway Bowl bid but the game was canceled. Bronco Mendenhall quit as coach after the season and the school hired Tony Elliott. This will be the 127th meeting.
On Saturday, Nov. 12, Carolina visits reigning ACC Atlantic Division champion Wake Forest (11–3, 7–1, No. 15) which rolled to a 38–10 Gator Bowl victory over Rutgers. This is the first time the teams have met in a game that counts in the conference standings since 2012 and the first time they've played four consecutive seasons since 2001–04.
The Tar Heels are at home on Saturday, Nov. 19 to face Georgia Tech (3–9, 2–6), which easily beat UNC 45–22 last season in the Atlanta Falcons' stadium. The Yellow Jackets will come to Chapel Hill for the first time since 2018. It's the latest the teams have met, with the previous latest being the Nov. 17, 2007, game.
Carolina's home game against N.C. State to finish the regular season is Friday, Nov. 25. The Wolfpack, which rallied to beat the Tar Heels last season 34–30, earned a bid for the Holiday Bowl that got canceled.
2022 UNC football schedule
| Date | Day | Location | Opponent (2021 record) |
| --- | --- | --- | --- |
| August | | | |
| 27 | Saturday | Home | Florida A&M (9–3) |
| September | | | |
| 3 | Saturday | Road | Appalachian State (10–4) |
| 10 | Saturday | Road | Georgia State (9–3) |
| 24 | Saturday | Home | Notre Dame (11–2) |
| October | | | |
| 1 | Saturday | Home | Virginia Tech (6–7, 4–4) |
| 8 | Saturday | Road | Miami (7–5, 5–3) |
| 15 | Saturday | Road | Duke (3–9, 0–8) |
| 29 | Saturday | Home | Pittsburgh (11–3, 8–1) |
| November | | | |
| 5 | Saturday | Road | Virginia (6–6, 4–4) |
| 12 | Saturday | Road | Wake Forest (11–3, 7–1) |
| 19 | Saturday | Home | Georgia Tech (3–9, 2–6) |
| 25 | Friday | Home | N.C. State (9–3, 6–2) |
ACC schedule
Photo via @UNCFootball