By R.L. Bynum
Cole Anthony and Harrison Barnes each put together impressive late games on the West Coast on Tuesday night but only Anthony's effort came in a victory.
Anthony collected 23 points, seven rebounds, nine assists and two blocks while battling foul trouble to lead the Orlando Magic to a 113–95 victory at Portland. His 19.1 game score was his 10th this season of at least 19 after doing it only twice during his rookie season.
The game came on the day that the NBA made the Slam Dunk contest contestants for All-Star Weekend official. Anthony will compete against Houston's Jalen Green, New York's Obi Toppin and Golden State's Juan Toscano-Anderson on Saturday, Feb. 20 in Cleveland.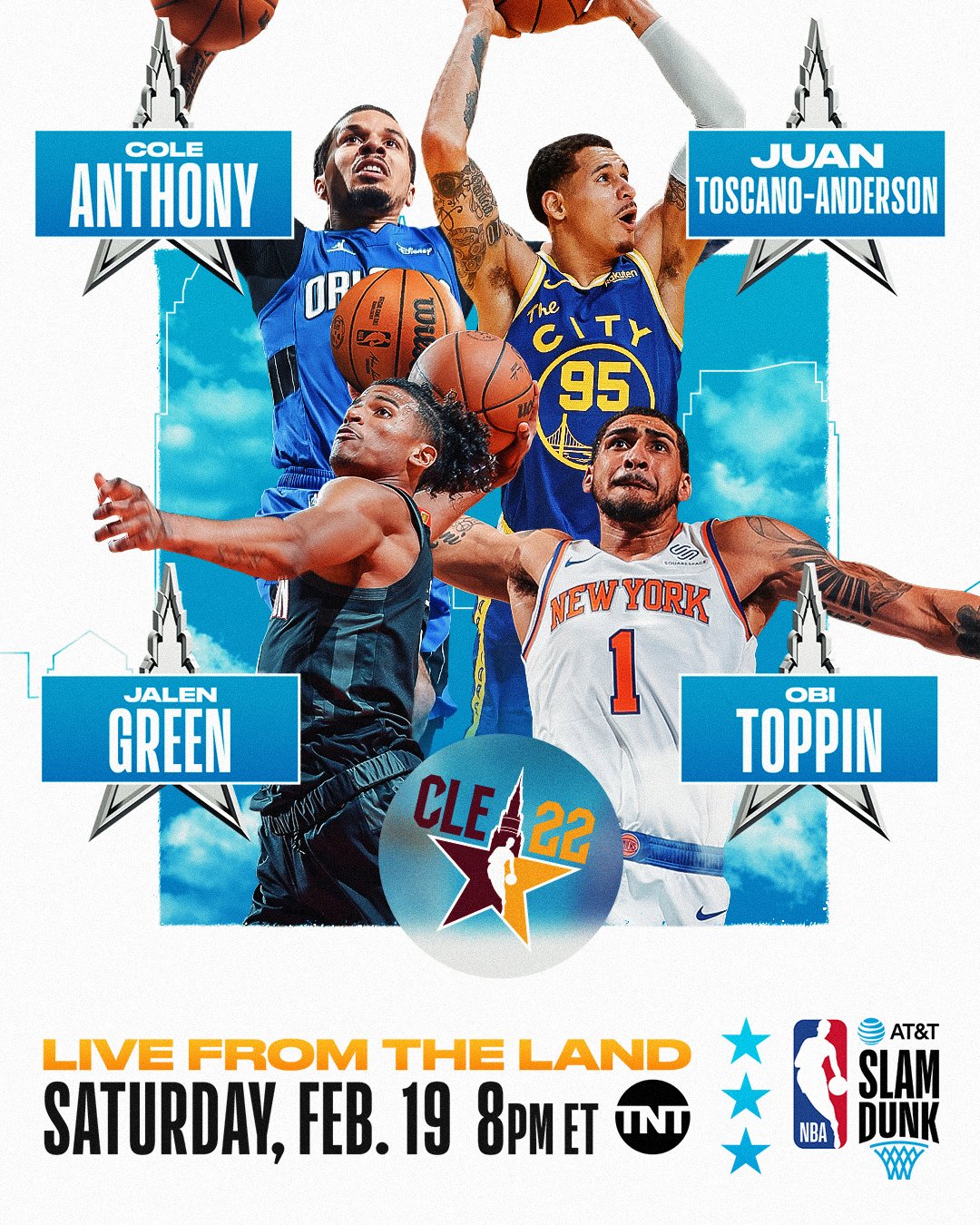 Anthony was asked if he'd have props, costume changes or swag planned for the contest.
"I've got all of that," said Anthony, who will also play for James Worthy's team in the Friday, Feb. 19 Young Stars game. "I'm from New York, man. I've got all that good stuff. I've got a few ideas in my head, I'm gonna see how it goes. I've got some stuff in the bag, man."
In a season when wins have been hard to come by for Orlando (13–43), Anthony said that playing together made the difference against the depleted Trail Blazers.
"Everyone shared the ball," Anthony said. "We had a lot of selfless plays when one person could have taken a shot but went for a better shot. That was the kind of energy we had as a team tonight and it's contagious when that happens."
The Blazers were playing their first game since dealing CJ McCollum, Larry Nance Jr. and Tony Snell to New Orleans for Josh Hart, Tomas Satoransky, Nickeil Alexander-Walker, Didi Louzada and draft picks.
---
Barnes had 21 points, six rebounds and three assists, making all 12 free-throw attempts, in Sacramento's 134–114 home Tuesday loss to Minnesota, the Timberwolves' fifth consecutive victory.
Barnes has been mentioned in trade rumors but he wasn't part of a Tuesday deal that sent Domantas Sabonis to Sacramento and Tyrese Haliburton to Indiana as part of a six-player deal.
"He's going to add a different dynamic to our offense that this franchise hasn't seen since DeMarcus [Cousins]," Barnes said of Sabonis.
The Kings also got Justin Holiday, Jeremy Lamb and a 2023 second-round pick while the Pacers received Buddy Hield and Tristan Holiday.
The New York Post reported that the New York Knicks inquired about Barnes ahead of Thursday's trade deadline but that Barnes probably is no longer available after the Kings' deal with the Pacers.
---
Reggie Bullock scored in double figures for the seventh consecutive game, netting 12 points Tuesday in Dallas' 116–86 home victory over the Detroit Pistons. Bullock notched four 3-pointers and has at least three in seven straight games.
Theo Pinson, who Mavericks coach Jason Kidd calls "our MVP" for his "spirit and soul," was scoreless in nine minutes.
---
Phoenix's Cameron Johnson and Justin Jackson earned road victories on successive nights against fellow Tar Heels, beating Philadelphia 114–109 on Tuesday after topping Chicago 127–124 on Monday, to push its NBA-best record to 44–10.
Johnson had six points against the Sixers for his lowest scoring output since scoring three on Nov. 22 at San Antonio and Jackson didn't play in that game. Danny Green scored three points in 17 minutes for Philadelphia.
In Monday's Suns win, Johnson scored six points and two 3-pointers and Jackson was scoreless in one minute for the Suns.
Coby White returned for the Bulls after missing two games with a right adductor strain to collect 13 points and two 3-pointers. Tony Bradley scored five points in 12 minutes for Chicago.
White used to play for the Team CP3 AAU team that the Suns' Chris Paul sponsors.
"Coby is my family," said Paul, who had 19 points and 11 assists against Chicago. "Out there competing against him, I still don't ever really get used to it."
---
Day'Ron Sharpe had two points, nine rebounds, two assists and a block in Brooklyn's 126–91 home loss to Boston.
---
In the Los Angeles Lakers' 131–116 home loss to Milwaukee, Wayne Ellington again didn't play (coach's decision). That's the fifth consecutive game he hasn't gotten off the bench and ninth in the last 12 games.
(Monday and Tuesday)
Cole Anthony, Orlando Magic guard
113–95 Tuesday win at Portland — Started; 23 points, 9–18 FG, 3–5 3FG, 2–2 FG, 7 rebounds, 9 assists, 2 blocks, 4 turnovers, 5 fouls, +14, 19.1 game score
Season statistics — 42 games, 17.8 points, 39.2 FG%, 32.7 3FG%, 85.1 FT%, 5.9 rebounds, 6.1 assists
Up next — 9 p.m. Friday at Utah; 9 p.m. Saturday at Phoenix
———————————————
Harrison Barnes, Sacramento Kings forward
134–114 Tuesday loss vs Minnesota — Started; 32 minutes, 21 points, 4–7 FG, 1–3 3FG, 12–12 FT, 6 rebounds, 3 assists, 1 steal, -14, 22.6 game score
Season statistics — 50 games, 16.8 points, 45.6 FG%, 40.6 3FG%, 81.5 FT%, 6.1 rebounds, 2.5 assists
Up next — 10 p.m. Wednesday vs. Minnesota; 7 p.m. Saturday at Washington
———————————————
Tony Bradley, Chicago Bulls center
127–124 Monday loss vs. Phoenix — 12 minutes, 5 points, 2–3 FG, 1–1 FT, 1 steal, 1 block, +17, 5.0 game score
Season statistics — 40 games, 3.4 points, 58.3 FG%, 77.8 FT%, 3.9 rebounds, 0.5 of an assist
Up next — 7:30 Wednesday at Charlotte, ESPN, BSSE; 8 p.m. Friday vs. Minnesota
———————————————
Reggie Bullock, Dallas Mavericks guard/forward
116–86 Tuesday win vs. Detroit — Started; 29 minutes, 12 points, 4–9 FG, 4–8 3FG, 4 rebounds, 1 assist, +24, 8.8 game score
Season statistics — 47 games, 7.9 points, 41.1 FG%, 35.8 3P%, 84.4 FT%, 3.4 rebounds, 1.0 assist
Up next — 8:30 Thursday and Saturday vs. Los Angeles Clippers
———————————————
Ed Davis, Cleveland Cavaliers center
Off Monday and Tuesday
Season statistics — 17 games, 1.2 points, 64.3 FG%, 37.5 FT%, 2.5 rebounds, 0.2 of an assist
Up next — 7 p.m. Wednesday vs. San Antonio; 7 p.m. Friday at Indiana
———————————————
Wayne Ellington, Los Angeles Lakers guard
131–116 Tuesday loss vs. Milwaukee — Didn't play (coach's decision)
Season statistics — 33 games, 6.2 points, 39.5 FG%, 38.8 3FG%, 4–5 FT, 1.7 rebounds, 0.7 of an assist
Up next — 10 p.m. Wednesday at Portland; 8:30 Saturday at Golden State, ABC
———————————————
Danny Green, Philadelphia 76ers forward
114–109 Tuesday loss vs. Phoenix — 17 minutes, 3 points, 1–4 FG, 1–4 3FG, 1 rebound, 3 turnovers, +1, -1.7 game score
Season statistics — 36 games, 6.8 points, 41.2 FG%, 38.6 3FG%, 12–14 FT, 2.6 rebounds, 1.0 assist
Up next — 7 p.m. Friday vs. Oklahoma City; 7:30 Saturday vs. Cleveland
———————————————
Justin Jackson, Phoenix Suns forward
127–124 Monday win at Chicago — 1 minute, 0 points, 0–2 FG, 0–1 3FG, 1 rebound, -8, -1.2 game score
114–109 Tuesday win at Philadelphia — Didn't play (coach's decision)
NBA season statistics — 7 games, 2.1 points, 33.3% FG, 33.3% 3FG, 1.0 rebounds, 0.3 of an assist
G League season statistics— 18 games, 23.3 points, 43.3% FG, 40.4% 3FG, 82.6 FT%, 7.1 rebounds, 2.9 assists
Up next — 10 p.m. Thursday vs. Milwaukee, TNT; 9 p.m. Saturday vs. Orlando
———————————————
Cameron Johnson, Phoenix Suns wing
127–124 Monday win at Chicago — 22 minutes, 6 points, 2–8 FG, 2–5 3FG, 1 assist, 1 steal, +4, 1.7 game score
114–109 Tuesday win at Philadelphia — 20 minutes, 7 points, 1–8 FG, 1–7 3FG, 4–4 FT, 1 rebound, 1 assist, 1 block, -1, 3.1 game score
Season statistics — 51 games, 11.9 points, 45.6 FG%, 42.9 3FG%, 84.9 FT%, 4.2 rebounds, 1.2 assists
Up next — 10 p.m. Thursday vs. Milwaukee, TNT; 9 p.m. Saturday vs. Orlando
———————————————
Nassir Little, Portland Trail Blazers wing
Is out for the season after undergoing surgery to repair a torn labrum in his left shoulder
Season statistics — 42 games, 9.8 points, 46.0 FG%, 33.1 3P%, 73.4 FT%, 5.6 rebounds, 1.3 assists
———————————————
Theo Pinson, Dallas Mavericks guard
116–86 Tuesday win vs. Detroit — 9 minutes, 0 points, 0–2 FG, 0–2 3FG, -5, -1.4 game score
NBA season statistics — 16 games, 1.8 points, 28.1 FG%, 24.0 3FG, 4–4 FT, 1.2 rebounds, 0.8 of an assist
G League season statistics — 13 games, 15.4 points, 40.6 FG%, 39.2 3FG%, 83.3 FT%, 4.5 rebounds, 4.1 assists, 1.2 steals
Up next — 8:30 Thursday and Saturday vs. Los Angeles Clippers
———————————————
Day'Ron Sharpe, Brooklyn Nets center
126–91 loss vs. Boston — 24 minutes, 2 points, 1–6 FG, 0–4 FT, 9 rebounds, 2 assists, 1 block, 1 turnover, -3, 2.0 game score
Season NBA statistics — 26 games, 6.2 points, 56.3 FG%, 25.0 3P%, 60.0% FT, 5.0 rebounds, 0.5 of an assist
Season G League statistics — 4 games, 18.0 points, 47.8 FG%, 33.33P%, 85.7 FT%, 9.8 rebounds, 1.4 steals, 2.6 blocks
Up next — 7:30 Thursday at Washington, TNT; 8 p.m. Saturday at Miami
———————————————
Coby White, Chicago Bulls guard
127–124 Monday loss vs. Phoenix — 25 minutes, 13 points, 3–7 FG, 2–5 3FG, 5–5 FT, 1 rebound, 1 assist, 1 turnover, +4, 8.1 game score
Season statistics — 34 games, 12.9 points, 43.8 FG%, 36.5 3P%, 2.7 rebounds, 2.6 assists
Up next — 7:30 Wednesday at Charlotte, ESPN, BSSE; 8 p.m. Friday vs. Minnesota
———————————————