By R.L. Bynum
Danny Green played his best game of these NBA playoffs and moved up the all-time playoffs 3-pointers list but it wasn't nearly enough for his Philadelphia 76ers to close out the Toronto Raptors. Reggie Bullock had a good all-around game before being ejected in a skirmish as his Dallas Mavericks moved one win away from winning their series with the Utah Jazz.
In 25 minutes, Green collected 14 points, four rebounds and two steals in the Sixers' 103–88 Game 5 loss at home to the Raptors. Philadelphia still leads the first-round series 3–2, and gets another chance to win the series when it resumes in Toronto at 7 p.m. Thursday.
Green's 12.6 game score was his best in his last 11 playoff games, dating back to his 15-points, 13.6-game score game on May 29 of last season in the 76ers' 132–103 win at Washington.
Green's four 3-pointers were the most since he scored 15 points and four 3-pointers on April 9 in a home win over Indiana. It was his most 3-pointers in a playoff game since scoring five in that May win over the Wizards.
Green moved to ninth on the all-time playoff 3-pointers list at 295, shooting past J.R. Smith (294) and Kobe Bryant (292).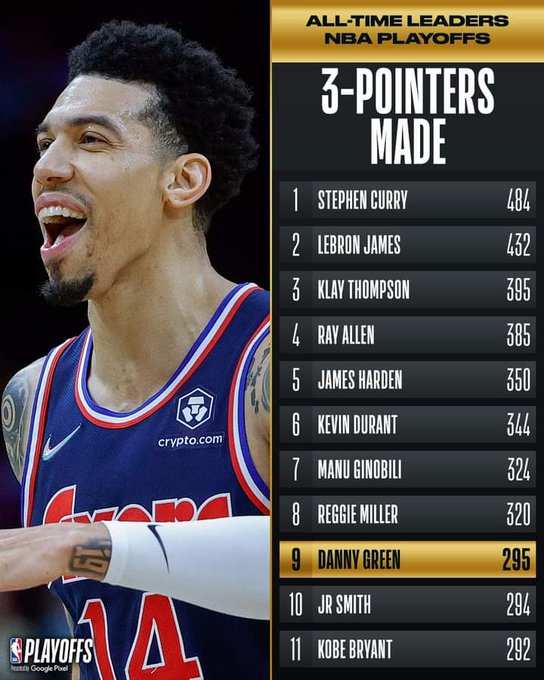 ---
In nearly 31 minutes, his fewest in the playoffs, Bullock scored nine points on three 3-pointers and had seven rebounds, two assists and three steals in the Mavericks' 102–77 home win over Utah to take a 3–2 series lead.
Dallas can win the series Thursday at 10 p.m. in Utah.
After Utah's Hassan Whiteside challenged an attempted dunk by Dallas' Luka Doncic midway through the fourth quarter, he flung Doncic to the court and they got tangled up. Whiteside was whistled for two technical fouls after shoving the Mavs' Dorian Finney-Smith and went nose-to-nose with Bullock.
Bullock drew a technical foul and was ejected because it was his second technical foul of the game.
---
The Boston Celtics finished off a four-game sweep of the Brooklyn Nets with a 116–112 victory Monday night. Day'Ron Sharpe again didn't play for the Nets (coach's decision), only getting in for 22 seconds of Game 2. That is the only playing time he got in Brooklyn since playing 12 minutes on Feb. 28.
Tony Bradley, Chicago Bulls center
Off until Wednesday
Playoff statistics — 1 game, 10 points, 5–5 FG, 3 rebounds
Regular-season statistics — 55 games, 3.0 points, 58.5 FG%, 65.5 FT%, 3.4 rebounds, 0.5 of an assist
Series scores, schedule
April 17: Milwaukee 93, Chicago 86
April 20: Chicago 114, Milwaukee 110
Friday: Milwaukee 111, Chicago 81
Sunday: Milwaukee 119, Chicago 95; Bucks lead series 3–1
Wednesday at Milwaukee, 8:30 p.m.
x — Friday, April 29 at Chicago, TBD, TBD
x — Sunday, May 1 at Milwaukee, TBD, TBD
x — If needed
———————————————
Reggie Bullock, Dallas Mavericks guard/forward
102–77 Game 5 win vs. Utah — Started; 31 minutes, 9 points, 3–9 FG, 3–9 3FG, 7 rebounds, 2 assists, 3 steals, +31, 10.0 game score
Playoff statistics — 5 games, 11.6 points, 46.3 FG%, 41.7 3P%, 4–4 FT, 6.0 rebounds, 2.2 assists
Regular-season statistics — 68 games, 8.6 points, 40.1 FG%, 36.0 3P%, 83.3 FT%, 3.5 rebounds, 1.2 assists
Series scores, schedule
April 16: Utah 99, Dallas 93
April 18: Dallas 110, Utah 105
April 21: Dallas 126, Utah 118
April 23: Utah 100, Dallas 99
Monday: Dallas 102, Utah 77; Mavericks lead series 3–2
Thursday at Utah, 10 p.m., TBD
x — Saturday at Dallas, TBD, TBD
x — If needed
———————————————
Danny Green, Philadelphia 76ers forward
103–88 Game 5 loss vs. Toronto — Started; 25 minutes, 14 points, 5–10 FG, 4–9 3FG, 4 rebounds, 2 steals, -14, 12.6 game score
Playoff statistics — 5 games, 8.4 points, 32.6 FG%, 32.4 3FG%, 3.6 rebounds, 1.2 assists
Regular-season statistics — 62 games, 5.9 points, 39.4 FG%, 38.0 3FG%, 20–24 FT, 2.5 rebounds, 1.0 assists
Series scores, schedule
April 16: Philadelphia 131, Toronto 111
April 18: Philadelphia 112, Toronto 97
April 20: Philadelphia 104, Toronto 101
April 23: Toronto 110, Philadelphia 102
Monday: Toronto 108, Philadelphia 88; Sixers lead series 3–2
Thursday at Toronto, 7 p.m., TBD
x — Saturday at Philadelphia, TBD, TBD
x — If needed
———————————————
Cameron Johnson, Phoenix Suns wing
Off until Tuesday
Playoff statistics — 4 games, 11.3 points, 45.7 FG%, 35.0 3FG%, 54.5 FT%, 2.8 rebounds, 0.5 of an assist
Regular-season statistics — 66 games, 12.5 points, 46.0 FG%, 42.5 3FG%, 86.0 FT%, 4.1 rebounds, 1.5 assists
Series scores, schedule
April 17: Phoenix 110, New Orleans 99
April 19: New Orleans 125, Phoenix 114
Friday: Phoenix 114, New Orleans 111
Sunday: New Orleans 118, Phoenix 103; series tied at 2
Tuesday at Phoenix, 10 p.m., TNT
Thursday, April 28 at New Orleans, TBD, TBD
x —Saturday, April 30 at Phoenix, TBD, TBD
x — If needed
———————————————
Theo Pinson, Dallas Mavericks guard
102–77 Game 5 win vs. Utah — Not active for the game
Playoff statistics — Hasn't played
Regular-season NBA season statistics — 19 games, 2.5 points, 35.9 FG%, 33.3 3FG%, 10–10 FT, 1.1 rebounds, 0.9 assists
G League season statistics — 14 games, 15.7 points, 40.4 FG%, 38.6 3FG%, 84.8 FT%, 4.6 rebounds, 4.1 assists, 1.2 steals
Series scores, schedule
April 16: Utah 99, Dallas 93
April 18: Dallas 110, Utah 105
April 21: Dallas 126, Utah 118
April 23: Utah 100, Dallas 99
Monday: Dallas 102, Utah 77; Mavericks lead series 3–2
Thursday at Utah, 10 p.m., TBD
x — Saturday at Dallas, TBD, TBD
x — If needed
———————————————
Day'Ron Sharpe, Brooklyn Nets center
116–112 Game 4 loss vs. Boston — Didn't play (coach's decision)
Playoff statistics — 1 game, 0 points
Regular-season NBA statistics — 32 games, 6.2 points, 57.7 FG%, 28.6 3P%, 58.5% FT, 5.0 rebounds, 0.5 of an assist
G League statistics (2021 part of season) — 4 games, 18.0 points, 47.8 FG%, 33.33P%, 85.7 FT%, 9.8 rebounds, 1.4 steals, 2.6 blocks
G League statistics (2022 part of season) — 10 games, 18.8 points, 51.0 FG%, 33.3 3FG%, 40.0 FT%, 13.0 rebounds, 3.1 assists
Series scores, schedule
April 17: Boston 115, Brooklyn 114
April 20:  Boston 114, Brooklyn 107
Saturday: Boston 109, Brooklyn 103
Monday: Boston 116, Brooklyn 112; Celtics win series 4–0
———————————————
Coby White, Chicago Bulls guard
Off until Wednesday
Playoff statistics — 3 games, 7.7 points, 33.3 FG%, 30.8 3FG%, 4.0 rebounds, 1.0 assists
Regular-season statistics — 61 games, 12.7 points, 43.3 FG%, 38.5 3P%, 86.7 FT%, 3.0 rebounds, 2.9 assists
Series scores, schedule
April 17: Milwaukee 93, Chicago 86
April 20: Chicago 114, Milwaukee 110
Friday: Milwaukee 111, Chicago 81
Sunday: Milwaukee 119, Chicago 95; Bucks lead series 3–1
Wednesday at Milwaukee, 8:30 p.m.
x — Friday, April 29 at Chicago, TBD, TBD
x — Sunday, May 1 at Milwaukee, TBD, TBD
x — If needed
———————————————