By R.L. Bynum
CHAPEL HILL — The childhood memories from Boshamer Stadium may not be as memorable for me as they were for Carmichael Auditorium but there's no doubt that it's where I grew to love baseball.
Those were rekindled in the last three months covering Carolina baseball.
As a kid in Chapel Hill, it was a short trip up Strowd Hill and through the UNC campus from my Franklin Street house (which was between where the Siena Hotel now stands and the fire station, but is no longer there) to catch the Tar Heels, whether it be in the spring or for games in the old North Carolina Collegiate Summer League.
The Class-A Carolina League iteration of the Durham Bulls hadn't yet arrived. With no professional baseball in the Triangle and only one or two MLB games on TV each week, it was Carolina baseball that stoked my love for the game.
After covering only a few UNC baseball games in 2021, I thoroughly enjoyed coming to The Bosh to cover numerous games this season as the Tar Heels made their impressive run from what looked like a lost season to ACC and regional titles.
Much like covering women's basketball games at Carmichael (why did they change the name?), it often feels like a sentimental journey.
I was heartened to learn at my first game this season that the press box is dedicated to Stephen Gates, who had the potential to do great things in sports broadcasting but was sadly killed by a hit-and-run driver in 2003. I knew Stephen pretty well because he was the commissioner for a Rotisserie league I was part of.
I firmly believe that if Stephen, who called Carolina baseball on the radio, wasn't the voice of his beloved Cincinnati Reds by now, he would have been on his way to that dream job.
I was at the stadium as a kid on a March afternoon in 1972 when Boshamer Stadium opened with white columns along the concourse, green metal bench seats, wired fencing behind the plate and a modest seating capacity of 2,500. This was years before anybody referred to it as The Bosh.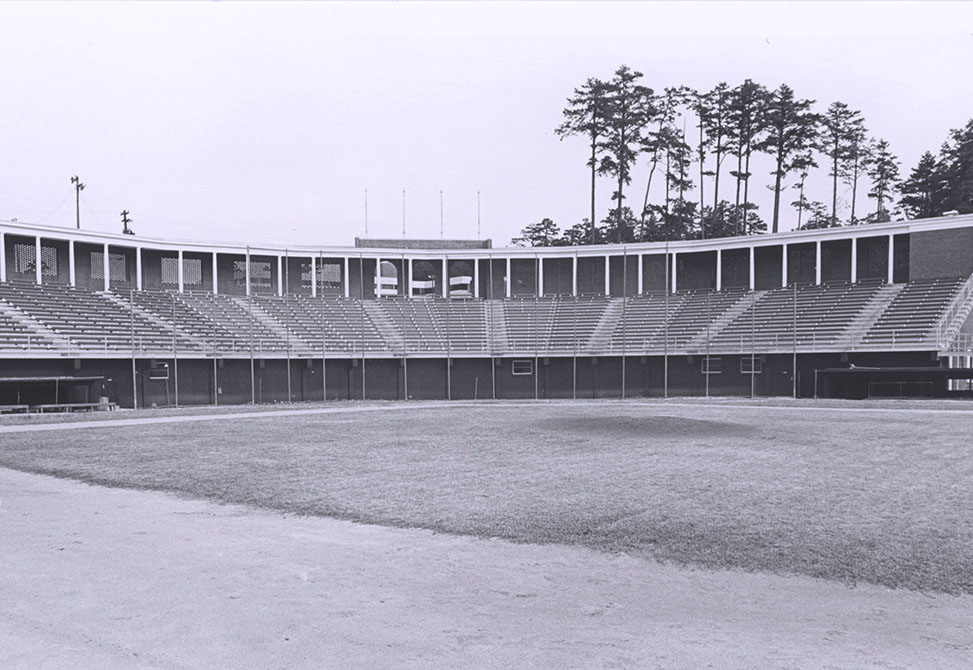 As I got older, I operated the electronic scoreboard for many games from the press area that, at the time, was at field level behind the plate. I routinely used the phone in the baseball offices to call my dad so he would pick me up after the game and was familiar to the coaches.
Some of my favorite players as a kid were pitcher Jim "Jimbo" Chamberlain, third baseman Bobby Guthrie, catcher (later the head coach) Mike Roberts and outfielders Early Jones and Dale Lydecker, all coached by legendary "Old Leaguer" Walter Rabb. Back then, the ACC Tournament — when it still was a double-elimination event — was held a couple of times in Chapel Hill.
Thanks to Jenny Steinbrenner — daughter of New York Yankees owner George Steinbrenner — being a UNC student, the Yankees played exhibition games against UNC at Boshamer in 1977, 1979 and 1981. Reggie Jackson hit one majestic home run that landed more than halfway between the left-field fence and Ehringhaus Dorm.  
For that 1977 game, I was behind the Yankees dugout that jutted out beyond the stands on the first-base side and watched through an opening at the back of the dugout. Watching players such as Thurman Munson, Catfish Hunter, Ron Guidry and Lou Piniella walk around in such a casual environment was amazing.
As I remember, all of the players — except for Graig Nettles — politely gave fans autographs.
For most of the 1970s (until the 1978 team made it to the College World Series), Carolina didn't earn NCAA tournament berths but the Tar Heels teams made me a bigger baseball fan (never mind the masochistic decision to become a Chicago Cubs fan).
The modern stadium after renovations in 2008 gives fans and players a much better experience and today's Carolina program is much more consistent than it was when I was a kid.
The Triple-A Durham Bulls and the Class-A Carolina Mudcats are a huge part of the Triangle's baseball culture now and the source of a lot of summer fun. But while Bulls and Mudcats games sometimes seem like a movie outing for many, there's nothing like compelling Carolina games and the passion of the program's hard-core fans.
I remember being in the stands with my younger son for UNC's Super Regionals-clinching victory in 2013 over South Carolina. It was every bit as tension-producing as when I was in Atlanta with my older son for the Cubs' NLDS-clinching win over the Atlanta Braves in 2003.
With Tar Heels fans to get treated to at least two more seasons of watching center fielder Vance Honeycutt, along with several other talented returnees, there promise to be more fun times for fans at The Bosh for seasons to come.
And, hopefully, heading to Boshamer Stadium will cultivate the love of baseball in kids the way it did for me.
Top photo via @GoHeels