By R.L. Bynum
Finding Carolina's 6 o'clock football opener Friday night at Virginia Tech on television will be easy. It's on ESPN.
If you want to turn down the sound and listen to Jones Angell, in his 11th season as the Voice of the Tar Heels, and his Tar Heel Sports Network radio crew during the game, you may not be able to do that the same way as last season.
If you're in the Triangle, you can still hear UNC games on WCHL (AM 1360 and FM 97.9) but you can no longer tune in to WTKK (106.1 FM) for the games as you have for years. Instead, the games will be on the WPTF (AM 680 and FM 98.5).
Unless you are in or near Raleigh, though, your better bet to hear games on WPTF will be on the station's 50,000-watt AM signal on 680 since its FM signal isn't very strong.
Outside the Triangle, there are 60 other THSN affiliates, which are all over North Carolina and include one Virginia affiliate. Fans going to the game in Blacksburg, Va., should be able to hear the broadcast on WBT AM 1110 or WPTF's AM signal.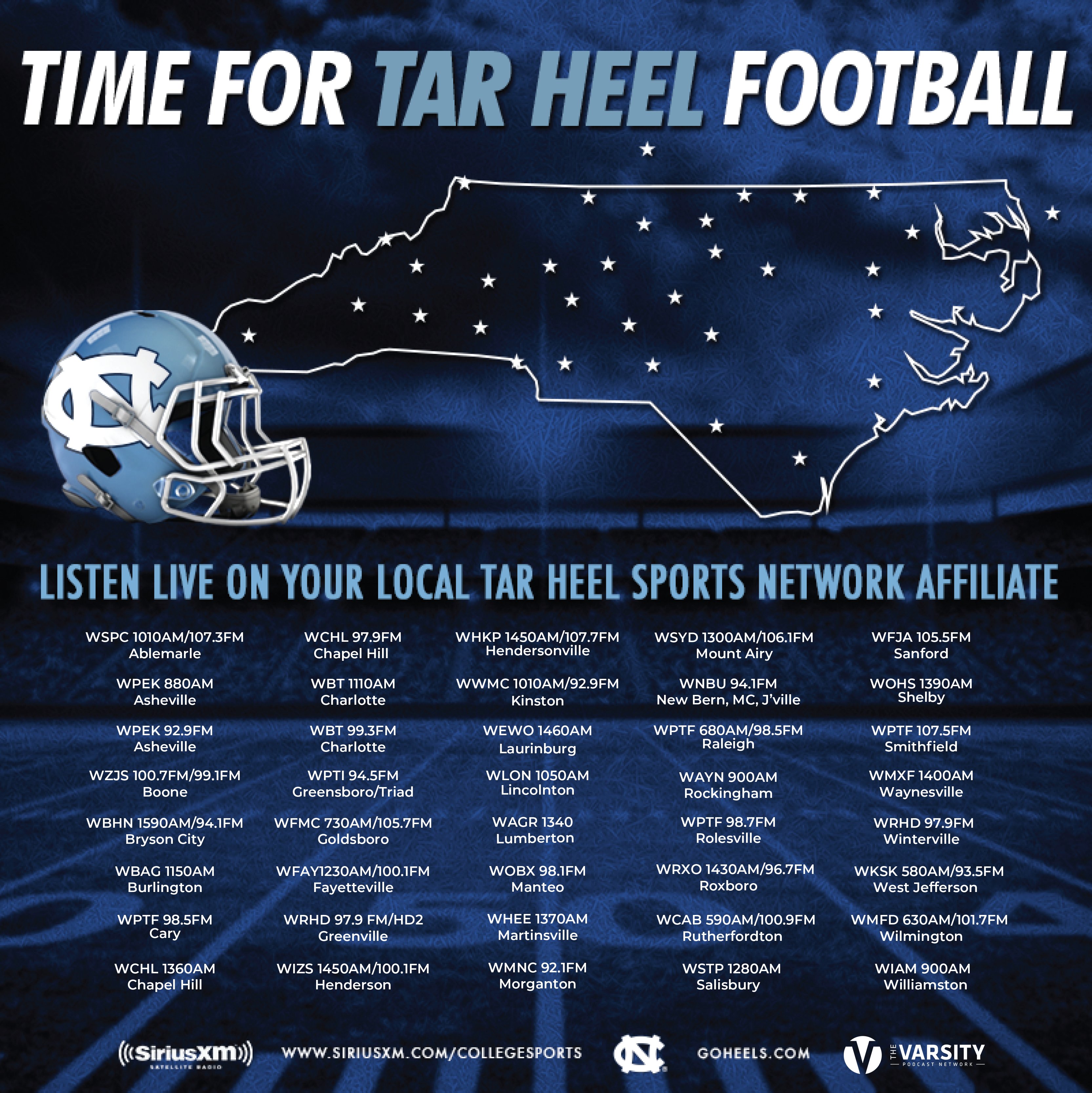 THSN stations will still stream games on their websites.
If you have been listening to the THSN on TuneIn, you can still do that, but it will no longer be free if you directly select the game or "North Carolina football." You'll have to be a TuneIn Premium subscriber to hear Tar Heels games through TuneIn, on its app or its website. Your options are either a 7-day trial after which you pay $9.99 a month, or a 30-day trial after which you pay $99.99 a year.
It may not be worth it to you if you only use TuneIn for UNC games. If you like to also listen to a lot of professional sports, though, it may be a good option. It also gives you commercial-free music and news channels.
A work around is to listen to games on TuneIn by finding a Tar Heel Sports Network affiliate.
If you want another free option, Learfield — the THSN distributor — has a new app called The Varsity Network, available to download for iPhones or Android phones (it is available on Google Play).
The app, which Sidearm Sports developed, gives access to live and on-demand games and shows involving the nearly 200 schools for which Learfield produces broadcasts, including Duke, N.C. State and seven other ACC schools.
Once you download the app, you can set your preferences. Select ACC, then select Carolina. It automatically shows a schedule of upcoming streams on the "LIVE STREAMS" tab. It lists "Countdown to Kickoff" as airing on at 4 p.m. Friday.
On the "ON DEMAND" tab, you have access to previous shows/games, including Monday's "Mack Brown Show" and Wednesday's "Primetime in the ACC." Dave Nathan is the host of that show and Tar Heel Sports Network broadcasts.
The look of that app is very similar to the GoHeels app, another Sidearm Sports app where you also can listen to the THSN.
The games will still be available on Sirius XM for its subscribers.
Pregame programming offerings for UNC games begin three hours before every game with the two-hour "Inside Carolina Live" show (3 p.m. Friday) on WCHL. Friday's show will be broadcast from Old East Tavern and open to the public.
On The Varsity Network app and WPTF, the hourlong "Countdown to Kickoff" airs two hours before kickoff (4 p.m. Friday). Nathan again will talk about the upcoming game each week with former UNC tight end Deems May.
About 35 minutes before each kickoff, Angell has a discussion about the game with former UNC center Jeff Saturday.
Angell's analyst on the network will again be Brian Simmons, a former consensus All-American linebacker at UNC and NFL star. Simmons will miss Friday's game, however, because he is the head coach of Windmere Prep in Florida, which has a game Friday. This is his sixth season on the broadcast.
The sideline reporter again will be Lee Pace, a 1979 UNC graduate who has written Extra Points since 1990 and has been part of the network's football broadcasts since 2004.
With Simmons out Friday, Pace will be the analyst and Nathan will add sideline reporting duties to his host duties.
The network broadcast begins at 5 p.m. Friday.
Five minutes after each game, "Inside Carolina Postgame Live," with Inside Carolina writer Ross Martin and former UNC star Shaun Draughn, will stream on YouTube, Facebook, Instagram and insidecarolina.com.