By R.L. Bynum
The ACC schedule-makers produced a helpful first league schedule for new UNC head coach Hubert Davis.
Davis' first Tar Heels team plays Florida State (Feb. 12) and Virginia (Jan. 8) — in addition to Syracuse (Feb. 29) and Pittsburgh (Feb. 16) — only at the Smith Center.
The trips to Charlottesville, Va., and Tallahassee, Fla., which have been rough ones for North Carolina in recent years, aren't part of the schedule. Carolina has lost two consecutive games at FSU, last winning in 2016, and six in a row at Virginia, last winning in 2012.
With fans back at the Smith Center, the Tar Heels play a Nov. 5 home exhibition game against Elizabeth City State before opening the Davis era on Nov. 9 with Carolina's home opener against Loyola-Maryland.
The Tar Heels open ACC play Dec. 5 at Georgia Tech.
The first UNC-Duke game will be Feb. 5 in Chapel Hill, with Carolina playing at Duke on March 5 in the final regular-season game and final home game of Coach Mike Krzyzewski's coaching career. Both games start at 6 p.m. and air on ESPN.
UNC plays at Boston College on New Year's Day, the Tar Heels' first Jan. 1 game since playing host to Monmouth in 2012. It's the fourth New Year's Day game in school history and UNC's first ACC game on Jan. 1. The UNC-BC game starts at noon and is the first of four games on ACC Network that day, with Louisville visiting Georgia Tech at 2 p.m., Florida State playing at N.C. State at 4 p.m. and Notre Dame playing host to Duke at 6 p.m.
The first time the public will be able to check out the team will be on Oct. 9, with the first Late Night in two years.
The Tar Heels come off an 18–11 finish in Roy Williams' final season as head coach, which ended with an 85–62 loss to Wisconsin in the first round of the NCAA tournament.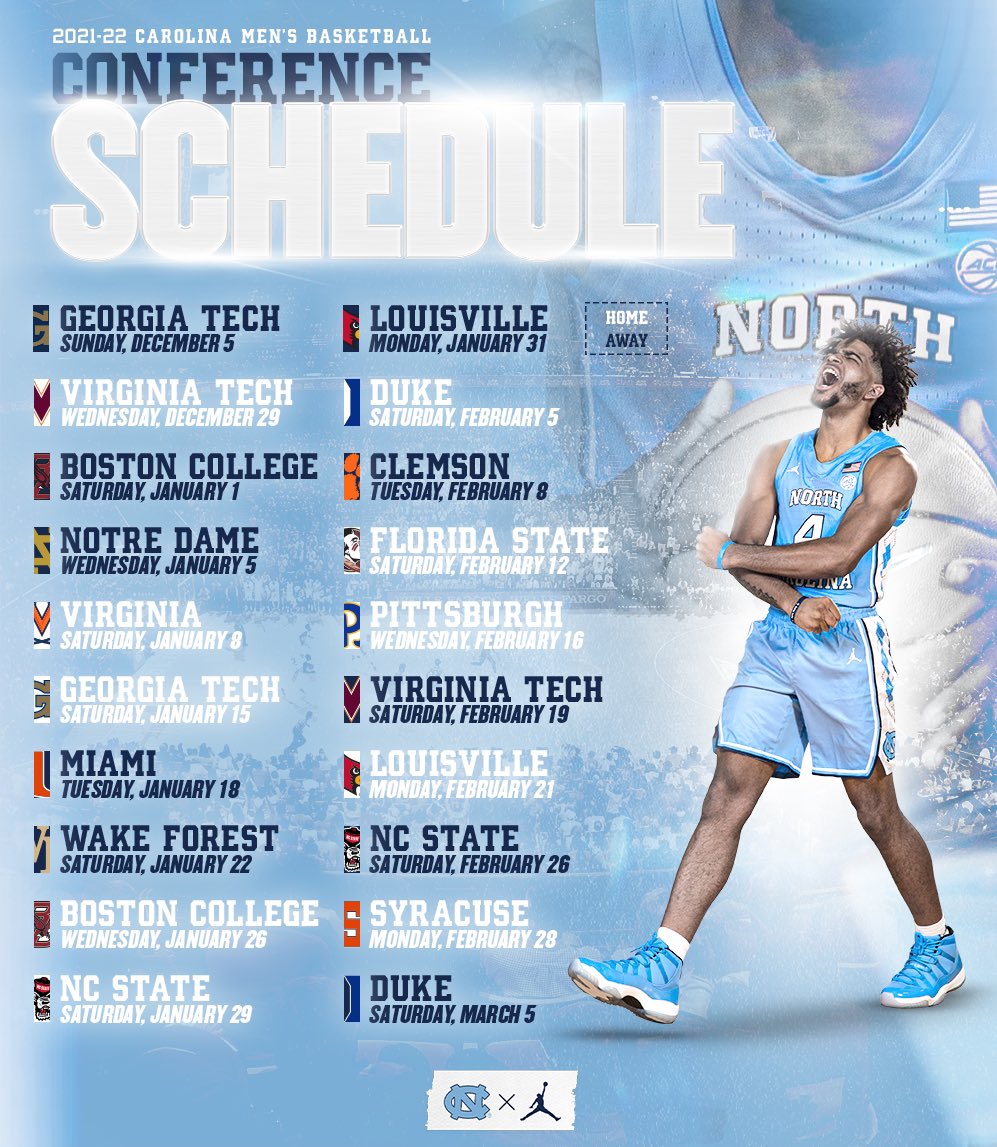 UNC men's basketball schedule
| Date | Day, time, TV | Location | Opponent |
| --- | --- | --- | --- |
| Nov. 5 | Friday, 7:30, ACCNX | Home exhibition | Elizabeth City State |
| Nov. 9 | Tuesday, 7, ACC Network | Home | Loyola Maryland |
| Nov. 12 | Friday, TBA | Home | Brown |
| Nov. 16 | Tuesday, TBA | Road | College of Charleston |
| Nov. 20 | Saturday, 4 p.m., ESPN News | Uncasville, Conn. | Y – Purdue |
| Nov. 21 | Sunday, 1 p.m. or 3:30, ABC or ESPN | Uncasville, Conn. | Y – Tennessee or Villanova |
| Nov. 23 | Tuesday, TBA | Home | UNC Asheville |
| Dec. 1 | Wednesday | Home | Michigan X |
| Dec. 5 | Sunday, 4 p.m., ESPN | Road | Georgia Tech |
| Dec. 11 | Saturday, TBA | Home | Elon |
| Dec. 14 | Tuesday, TBA | Home | Furman |
| Dec. 18 | Saturday, 3 p.m., CBS | Las Vegas | UCLA |
| Dec. 21 | Tuesday, TBA | Home | Appalachian State |
| Dec. 29 | Wednesday, TBA | Home | Virginia Tech |
| Jan. 1 | Saturday, noon, ACCN | Road | Boston College |
| Jan. 5 | Wednesday, 9 p.m., ESPN2 | Road | Notre Dame |
| Jan. 8 | Saturday, 1 p.m., ESPN | Home | Virginia |
| Jan. 15 | Saturday, 8 p.m., ACCN | Home | Georgia Tech |
| Jan. 18 | Tuesday, TBA, ESPN | Road | Miami |
| Jan. 22 | Saturday, 8 p.m., ACCN | Road | Wake Forest |
| Jan. 26 | Wednesday, 7 p.m., RSN | Home | Boston College |
| Jan. 29 | Saturday, 8 p.m., ACCN | Home | N.C. State |
| Jan. 31 | Monday, 7 p.m., ESPN | Road | Louisville |
| Feb. 5 | Saturday, 6 p.m., ESPN | Home | Duke |
| Feb. 8 | Tuesday, 9 p.m., ESPN or ESPN2 | Road | Clemson |
| Feb. 12 | Saturday, TBA, ESPN or ESPN2 | Home | Florida State |
| Feb. 16 | Wednesday, 8 p.m., ACCN | Home | Pittsburgh |
| Feb. 19 | Saturday, TBA, ESPN or ESPN2 | Road | Virginia Tech |
| Feb. 21 | Monday, 7 p.m., ESPN | Home | Louisville |
| Feb. 26 | Saturday, TBA, ESPN, ESPN2 or ESPNU | Road | N.C. State |
| Feb. 28 | Monday, 7 p.m., ESPN | Home | Syracuse |
| Mar. 5 | Saturday, 6 p.m., ESPN | Road | Duke |
X — ACC/Big Ten Challenge; Y — Hall of Fame Tip-Off; Z — CBS Sports Classic
ACC pool photo